Jan 19, 2022
5 Reasons Your Startup Idea Needs A Technical Co-Founder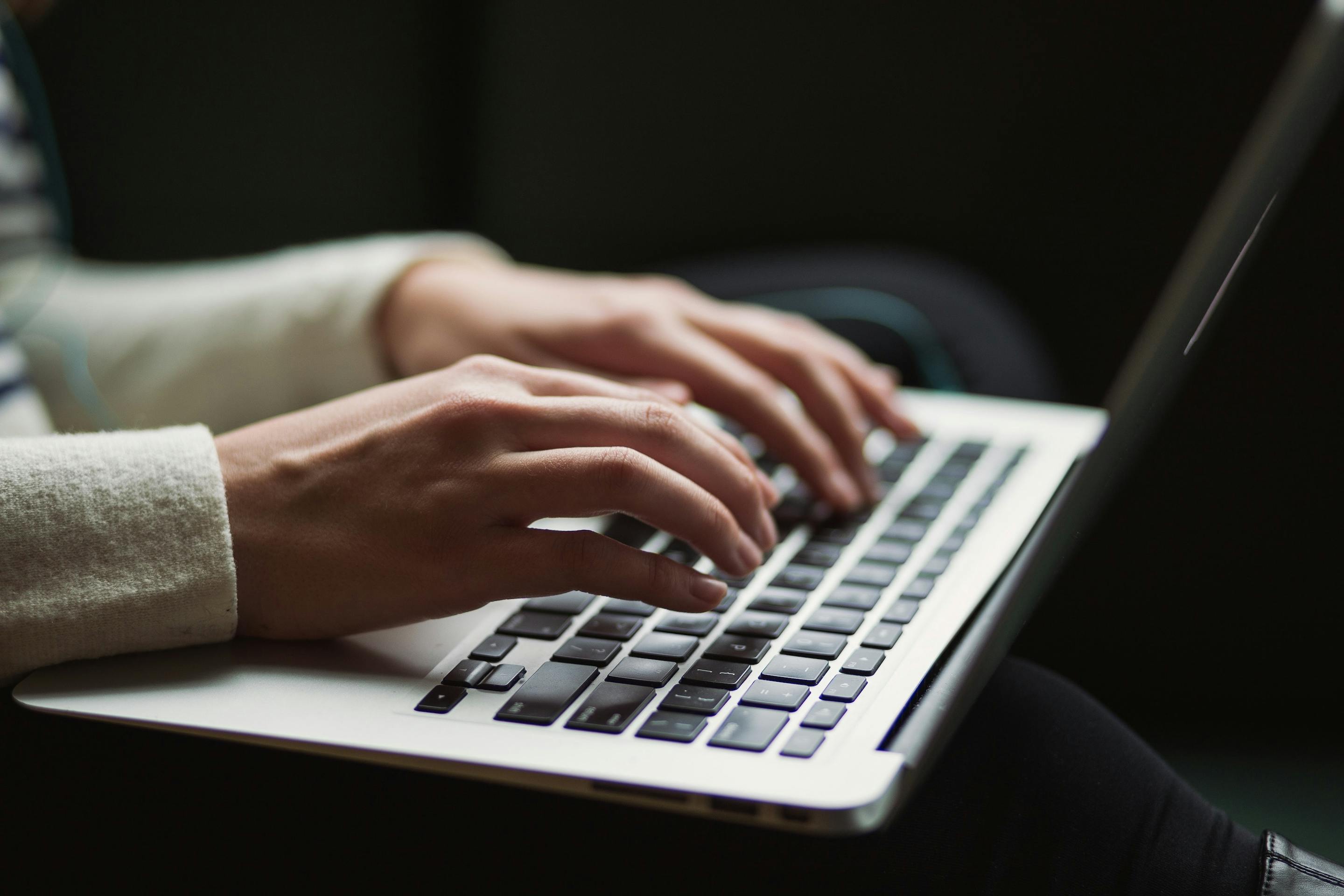 In the startup ecosystem, starting a new business can be a daunting process. From idea validation and securing capital to marketing strategies and team development, each element of the business model needs careful planning and execution to ensure the highest level of success.

Around 90% of startups fail which is why it's crucial to understand where these ideas are falling short and what can be done to improve their chances of survival in today's increasingly complex and competitive business landscape.

Many startups that have a tech-based product or service find themselves lacking the necessary skills to assess and select the right technology, build and manage engineering teams, as well as validate the feasibility of the idea. Talented entrepreneurs with great ideas often struggle to find a technically oriented partner to work with. As a consequence, startups often stagnate for months before they manage to find the right technical co-founder who is able to push the idea forward.

While no-code tools exist and lower the barrier to entry for non-technical founders, these tools still have their limitations. As a result, new startups are taking a co-creation approach by forming a leadership team with both technical and non-technical founders, where technical founders focus on the development of the product and non-technical founders bring additional benefits to the company such as industry expertise, fundraising experience, or an established network.
What Is A Technical Co-Founder?
A technical co-founder is a person that brings the technical skills required in building, launching, monitoring, and scaling the product. The responsibilities of a technical co-founder include expanding the engineering team, drawing up the project's tech stack, building the product strategy, and overseeing the production process of the MVP, prototype, or final product. Technical co-founders differ from CTOs and software developers because they are generally considered to have more 'skin in the game' when it comes to driving the success of the company. Technical co-founders are invested in the startup idea from the very beginning and play a crucial role in defining the long-term vision and growth strategy, whereas a CTO is usually hired as the team expands and does not have founder-level responsibilities.

Today, there are many organizations that are replacing individuals in assuming the role of technical co-founders in startups.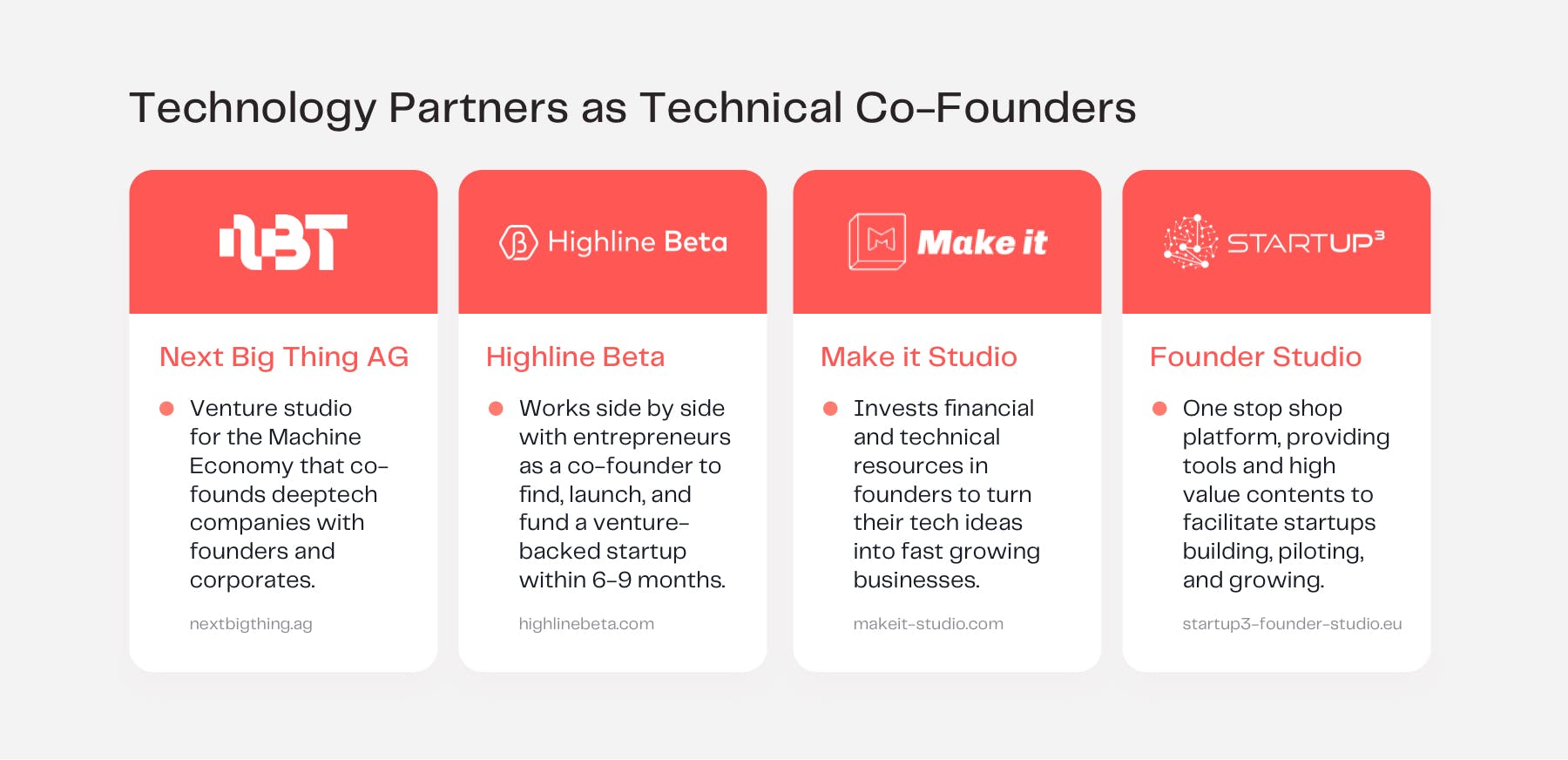 Venture studios are one example of an organization that acts as a technical co-founder. With Next Big Thing AG as an example of such a co-founder, the organization will support non-technical founders through several sprints to establish a successful startup. These sprint cycles generally include:
The Ideation Phase 
Conducting UX Research
Product Discovery
Prototyping 
Business Planning
Venture studios have dedicated technical teams that significantly reduce the risk profile of entrepreneurs through various support mechanisms including:
Technical Support — Hardware development, software development, and product design
Operational Support —  Marketing, operations, and legal
Investment Support — Capital, financial modeling, and sales
Typically, venture studios register a startup based on their location. Entrepreneurs that decide to go ahead with a technology partner as a technical co-founder, there should be consideration about the location of the startup since it's one of the most important factors contributing to its success.
Why Is A Technical Co-Founder Necessary?
Software development for non-technical founders can be a complex labyrinth that ends up in frustration and a significant loss of essential resources. As an entrepreneur, building a startup can be extremely challenging if you do not have any experience in the field of digital development. Technical co-founders are valuable assets when there is a lack of technical understanding and skills to lead development.

There are several ways to gauge the need for a technical cofounder based on the specific requirements of a startup. To better assess if your startup idea requires a technical co-founder, ask yourself the following:
Are you able to set the technical direction of your startup?
Are your skills sufficient to successfully develop, position, and improve your startup's product or service?
How dependent is your startup's success on new, innovative software?
Are you looking to scale your startup but have no defined end-point of development?
Technical co-founders are most valuable when leveraging their technical expertise to lead development over the long term.

1. A lack of industry expertise
With a technical co-founder, entrepreneurs will gain an in-depth understanding of which technologies would be suitable for the ultimate success of the product or service.

2. Require a long-term partner
Technical co-founders act as long-term partners who can work alongside other co-founders to grow and scale the product. 

3. Validation of the idea
Technical co-founders are able to validate the feasibility of the idea in the real world with a deep understanding of the current tech landscape and its active competitors. This is an essential step to ensure that the idea is tested before development commences. 

4. De-risking the idea 
The right technical co-founders know which feature to launch first during the scaling of the product or which market to target first. The upside of having a co-founder means that risks and responsibilities are shared; it also means that rewards are shared. 

5. Requires a deep technical understanding
Technical co-founders assist startups by ensuring that they are powered by the latest tech. These co-founders are equipped with knowledge of state-of-the-art technologies, tech trends, and other critical information that is essential when deciding which technology will be best suited for the product.

With a technical co-founder, entrepreneurs can place more of their focus on other key business areas such as refining the product or service, growth marketing, and business development. Although there is no fixed time to hire a co-founder, a startup with a technical co-founder improves the chances of securing funding for the startup and taking it to the next level.
Benefits Of A Technical Co-Founder
One of the main advantages of having a co-founder is that each stakeholder brings specific skills to the table. This ensures less room for error since responsibilities are split and the strengths of one co-founder can support the weaknesses of the other, and vice versa. 

Co-founders double the odds of startup success as each co-founder brings their own network and domain expertise. This could offer greater opportunities to raise funds, talk with potential customers, or build business relationships with community members. During pitch sessions, technical co-founders can impress potential strategic partners and build faith in the startup with investors. In addition, startups that have more than one founder can offer a diverse leadership perspective when conducting business and, at a later stage, expanding the team.

Technical co-founders are essential to B2B startups and perform 230% better in enterprise-focused startups since products that serve enterprises require a higher level of technical performance.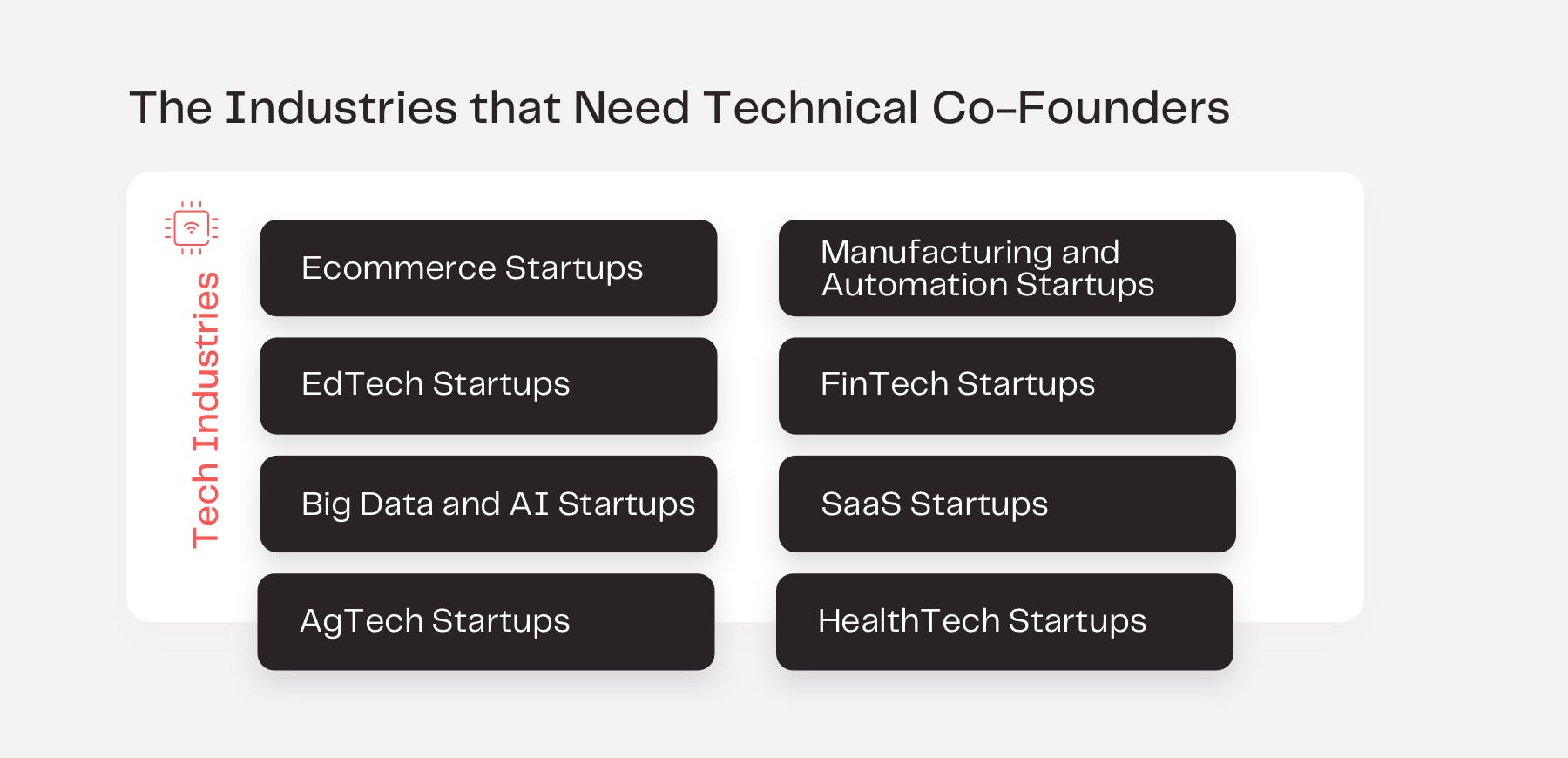 Selecting A Technical Co-Founder
Technology's industry-wide pervasiveness has led to the need for technical co-founders to steer growth and development initiatives in startups. Choosing a technical co-founder is one of the most important decisions that entrepreneurs need to make. Ideally, a technical co-founder has specific domain expertise and has a proven track record of having built similar projects to scale.

Having the right co-founder in your corner will be the differentiating factor between success and failure. A technical co-founder should be able to blend business and technology knowledge effortlessly, however, they should be benchmarked to assess whether they possess the right skills prior to joining a startup. As an entrepreneur searching for a co-founder, ask the potential technical candidate to elaborate their rationale in terms of technologies, architecture, and infrastructure.
Generally, any new startup needs three core roles to boost its rate of success: (1) the domain expert (someone who knows the market and comes up with the startup's vision); (2) the implementer (someone who builds and delivers the product) and; (3) the capital specialist (someone who will generate revenue and make the business attractive to investors).

It's rare that one person will encompass all three roles which is why startups will often be led by two co-founders so that the responsibilities of one co-founder complement the other.

Besides the hands-on expertise, technical co-founders guide technology solutions that will serve the needs of the startup's vision today and will apply their domain expertise to ensure that it can grow and successfully scale in the future.