Jul 20, 2020
Four Types of Innovation in Business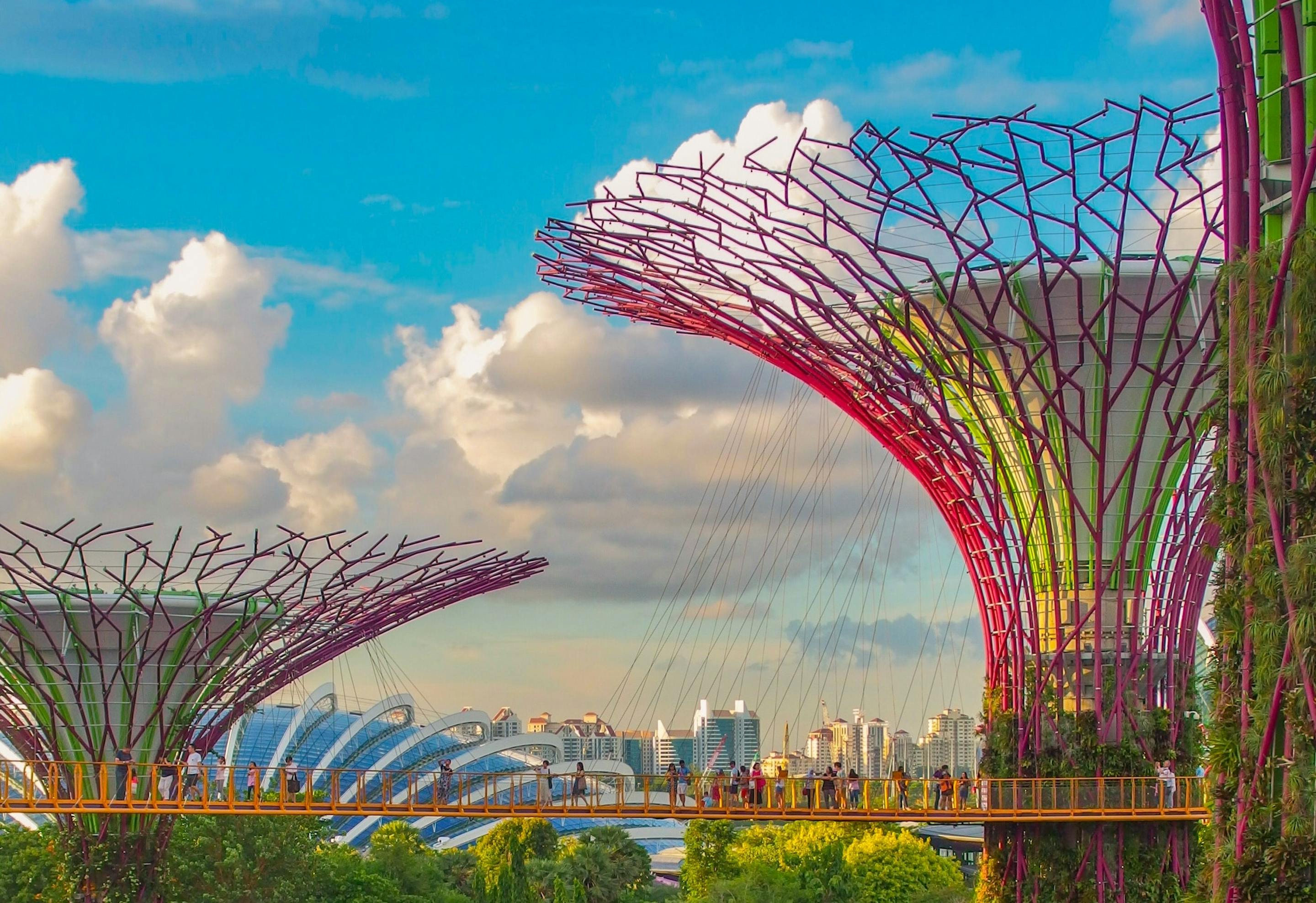 Facing the Risk of Disruption with Innovative Techniques

The business landscape is evolving in unprecedented ways as a direct result of emerging technologies. However, these new technologies often require large capital investments and take a long time to develop – typically over 30 years. 

Traditional approaches to innovation are no longer fit for purpose. New approaches are being conceptualized and carried out by startups and corporates alike. Businesses across all industries are starting to realize the scale and opportunity presented by disruptive technologies, and many are claiming the rewards of being early adopters. 

In contrast, when companies ignore these emerging technologies, the risk of disruption from new market entrants becomes inevitable, and what Clayton Christensen calls the Innovator's Dilemma. 
Four Types of Innovation in Business
Whether a business is in the initial stage of exploring innovation or has already gained some experience from it, new opportunities exist across the entire growth cycle. By classifying innovation into four distinct categories, companies can assess the opportunities that exist and how different approaches can enable them to create and capture value. 

Incremental Innovation is the continuous improvement of existing products or services to provide more value to an existing market. It focuses on reducing defects and incrementally improving performance with features like product line expansions, cost reductions, and next-generation products. This type of innovation occurs in the short term and has low technological advancement and low market impact.
Examples: Next-generation 3 series for BMW, Gillette

Architectural Innovation is the modification of existing solutions for an entirely new market. Architectural innovation refers to changing the overall design of a product by putting existing components together in new ways. This innovation occurs in the short to medium term. 
Examples: Sony Walkman, desktop photocopiers

Disruptive Innovation is when new technologies and products are created to serve an existing market. This type of innovation is enabled by new technology that provides a more efficient and accessible alternative to what already exists in the market. Businesses apply disruptive innovation to serve the evolving needs of their consumer base, creating entirely new value streams and service offerings that did not exist before. Disruptive innovation mostly originates at the lower end of the market segment, however, as the maturity of the technology increases, it eventually displaces established market leaders. This innovation occurs in the medium to long term.
Examples: Open source software, Peer-to-peer platforms (Airbnb), video streaming

Radical Innovation is when an organization applies new technology to a new market. This type of innovation is when a new product, process, or service with high technological advancement has a high market impact and completely replaces an existing offering. This innovation occurs in the long term.
Examples: Salesforce, Metromile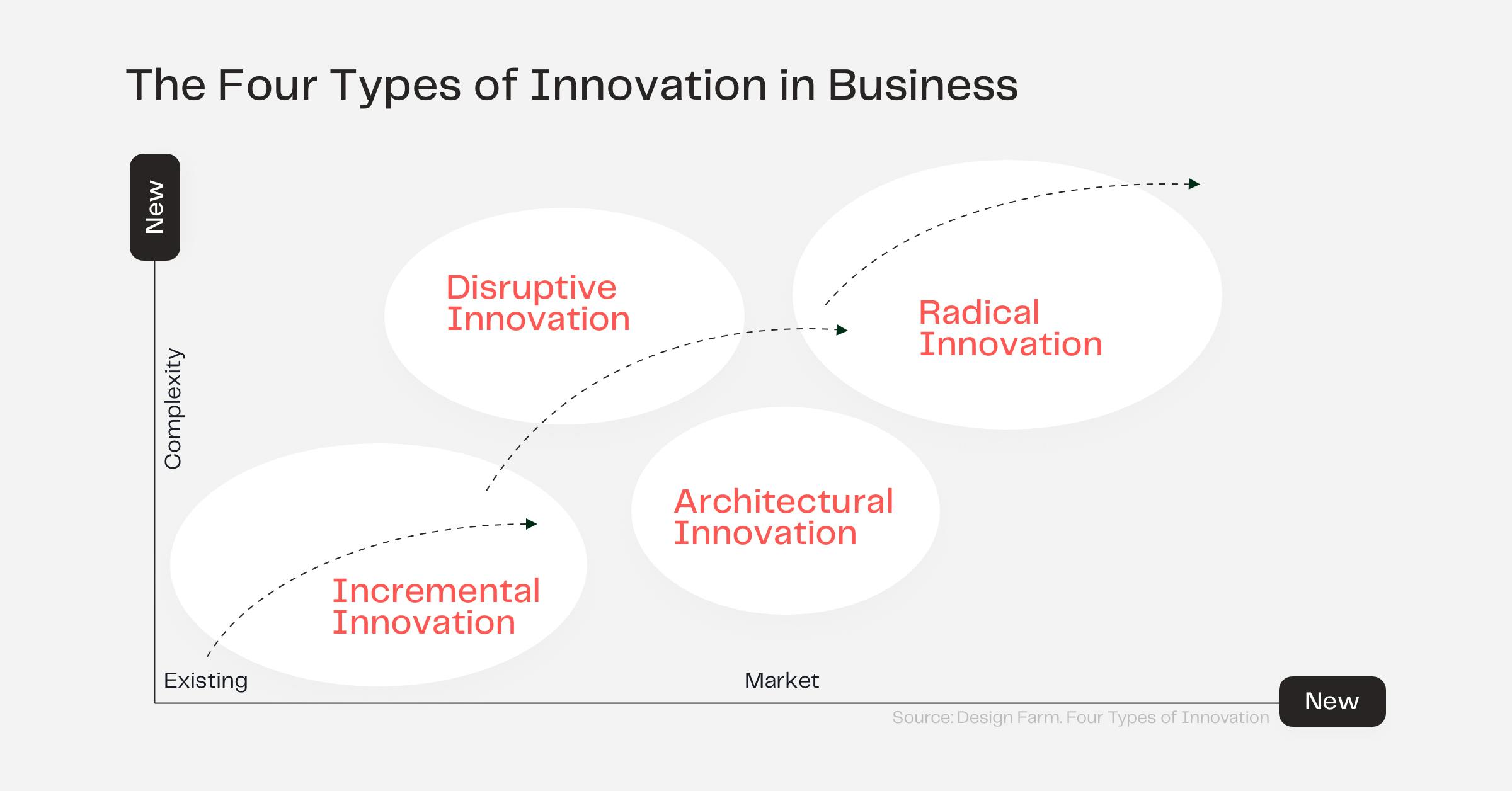 Incremental and architectural innovations extend the relevance and life cycle of an existing business. These innovation processes follow a formal set of predetermined steps from concept to commercialization, whereas disruptive and radical innovations supersede existing processes to redefine industry standards. These innovation types are characterized by several process changes along the way due to unexpected events and discoveries.

The most successful companies diversify their approach to innovation by maintaining a portfolio of various initiatives and techniques. To gain a competitive edge, businesses should explore all four types of innovation and align each approach with specific company goals.

According to innovation consultants, Bansi Nagji and Geoff Tuff, successful businesses allocate their resources across three distinct categories of innovation in these proportions: 70 – 20 – 10.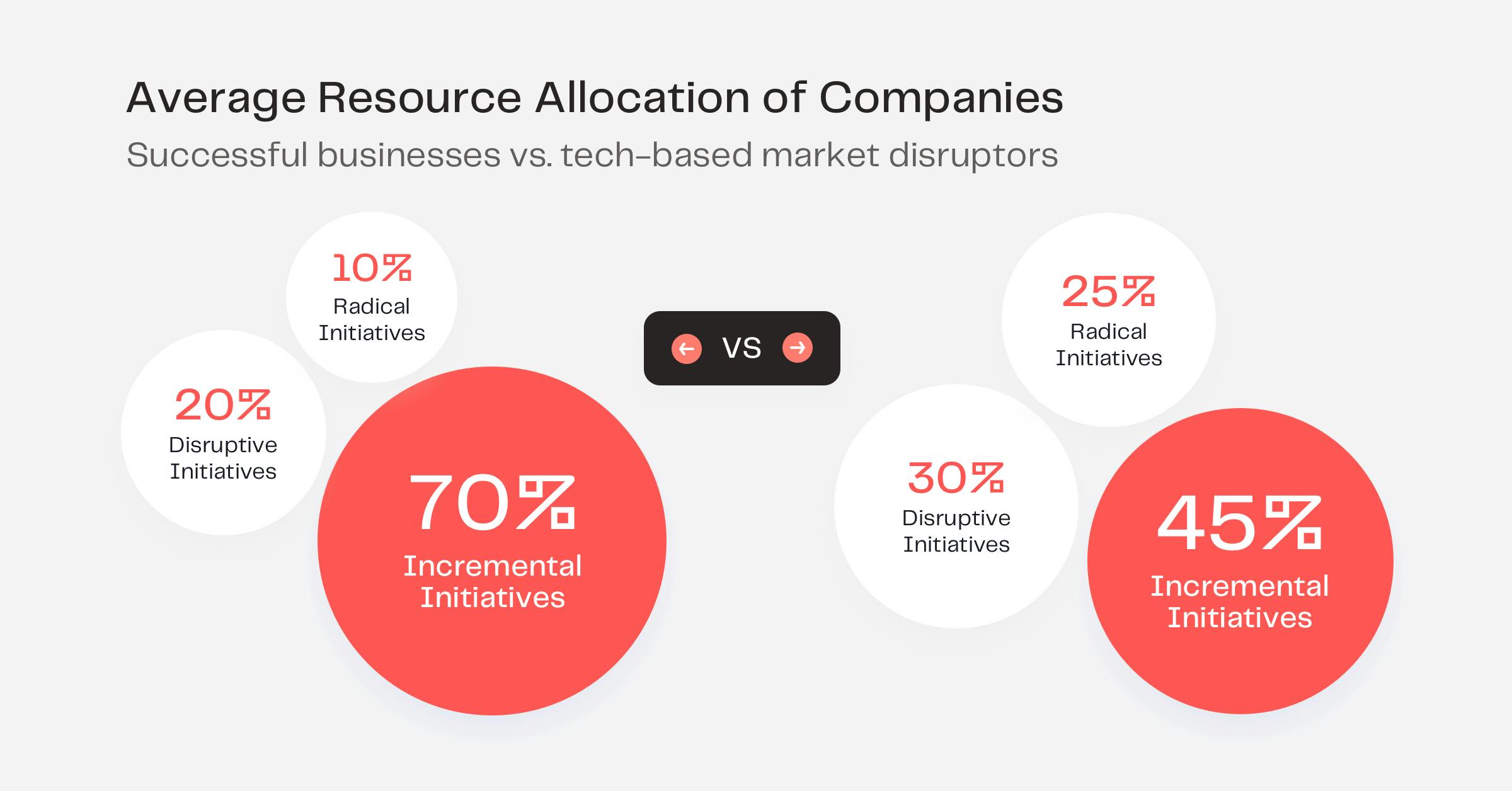 While this formula isn't set in stone, most leading companies devote about 70 percent of their innovation resources (time and money) to incremental initiatives; 20 percent to architectural or disruptive initiatives; and only 10 percent to radical initiatives. 

Depending on the type of industry, stage of growth, and specific goals, a company may need to make adjustments to their resource proportions. For example, for a tech-based market disruptor, where speed to market is key, resource allocation may follow these proportions instead: 45 - 30 - 25.
Which Innovator Are You?
Innovation is on the strategic agenda for most companies with 84% of executives stating that it's a critical driver to their growth strategy. With more companies looking beyond their own walls for new ideas, we are seeing an increase in partnership models with startups, corporate venture capitalists, incubators, and accelerators.

Roughly 82% of corporations believe that it's important to work with startups in order to innovate. Under this new open innovation paradigm, companies across multiple sectors are prioritizing collaboration opportunities to harness disruptive ideas and new technologies. Working with the right external partner can help a business gain a competitive advantage, improve profitability, and plan for the future — while significantly reducing the risk of increased costs and project failure.

However, before a business can assess external partnership models and execute their internal innovation strategy, they must first identify which of the four types of innovators they fall under: the hunter, the builder, the explorer, and the experimenter.
1. Hunters have a high investment in innovation and place a large emphasis on cooperation by acquiring external expertise and products
2. Builders invest significantly in innovation but focus their resources on building this capacity internally
3. Explorers invest less in innovation but still explore external sources for inspiration on how to do it
4. Experimenters invest less in innovation but build the necessary capacities to innovate internally
For successful innovation to occur, an idea needs to address three important criteria: (1) feasibility; (2) viability; (3) desirability. However, finding this innovation 'sweet spot' can be challenging.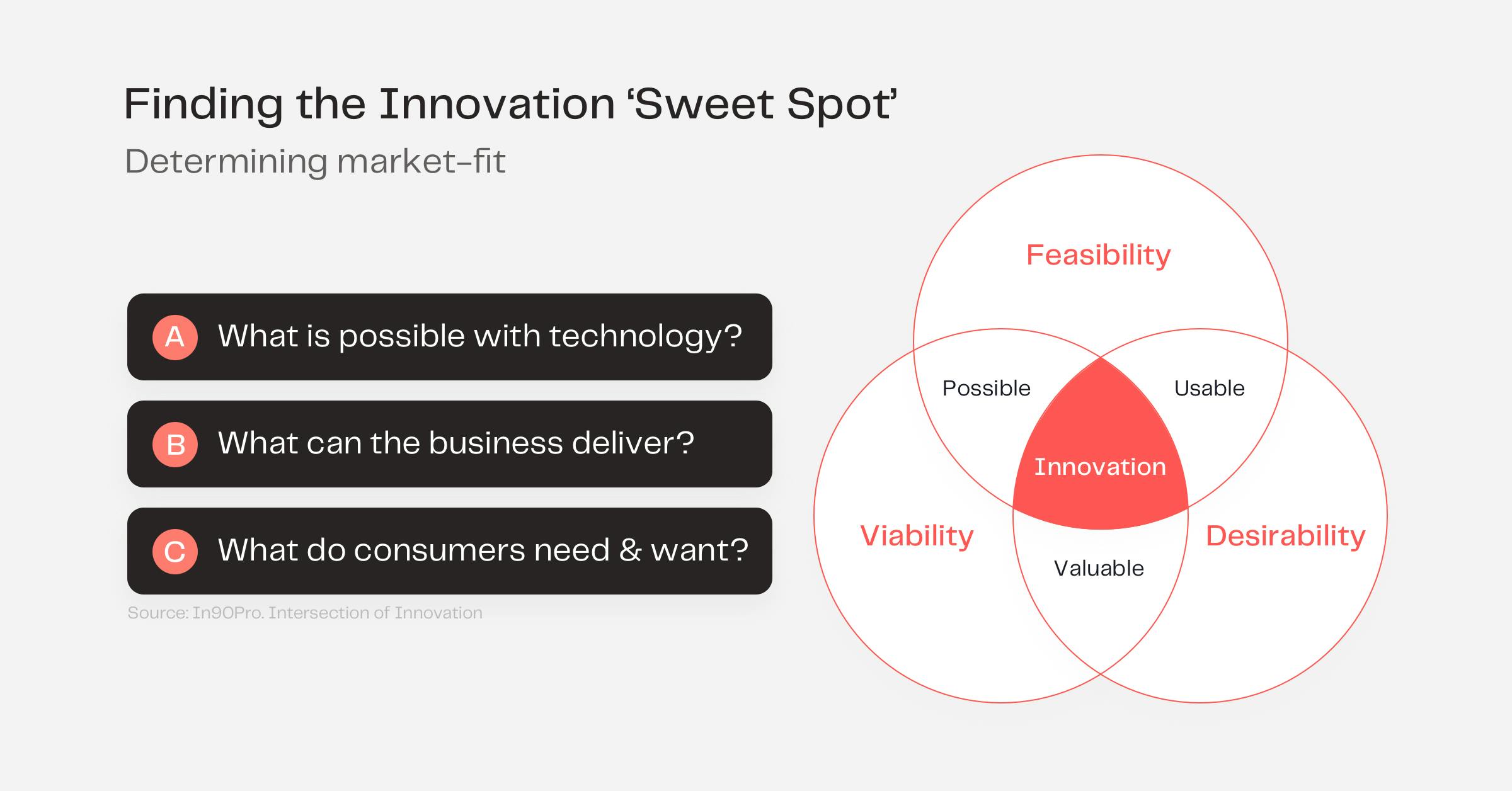 The innovation sweet spot occurs when a new product has proven feasible, its business model is viable and customers feel a desire to get it and use it. Each new stage of business development should undergo rapid testing to assess its potential market impact:
Desirability tests whether your innovation is solving the right customer problem
Feasibility tests whether your innovation strengthens the business
Viability tests your value chain for long-term sustainability and profitability
When incorporating this trifecta (desirability, feasibility, and viability) into a company's innovation strategy, iterations should serve as lessons to adjust the business strategy to reach set goals. 

Learning to sustain market security and taking calculated risks to disrupt competitors will bring businesses closer to creating a winning framework for innovation to flourish.