Apr 7, 2021
Prioritizing Sustainability in the Real Estate Industry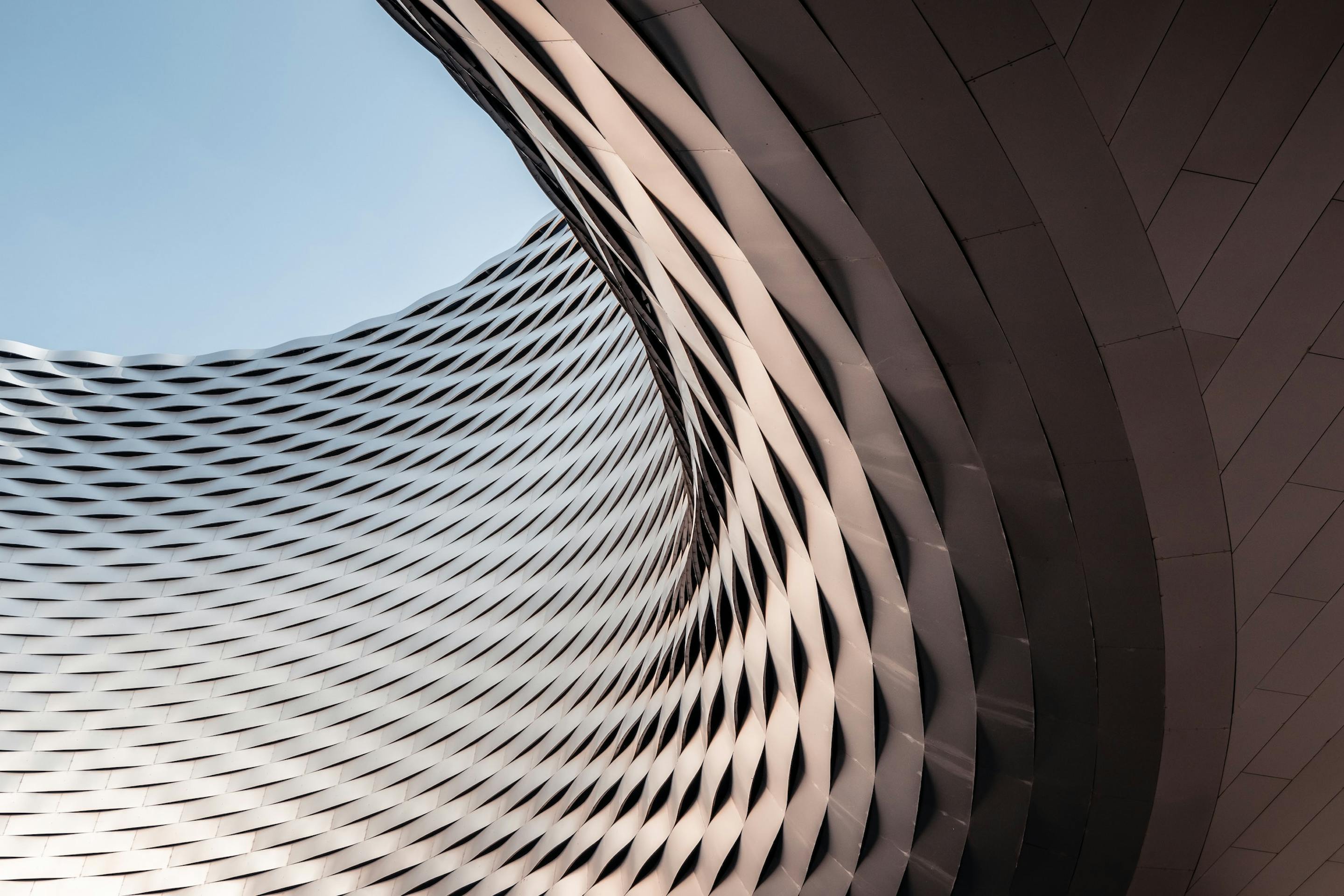 Global changes in society, the environment, and the economy are causing major disruptions across all sectors, but arguably none more so than in the real estate industry. 

With the dual threat of Covid-19 and climate change, the real estate industry has been exposed to numerous vulnerabilities which have illustrated the urgent need for collective action in the approach to sustainable building management solutions. 

For years, the real estate industry has negatively impacted the environment, from resource overconsumption to pollution to harmful emissions. Accounting for one of the highest carbon footprints, the real estate industry contributes 39% of global annual greenhouse gas (GHG) emissions and consumes around 30% of the world's energy.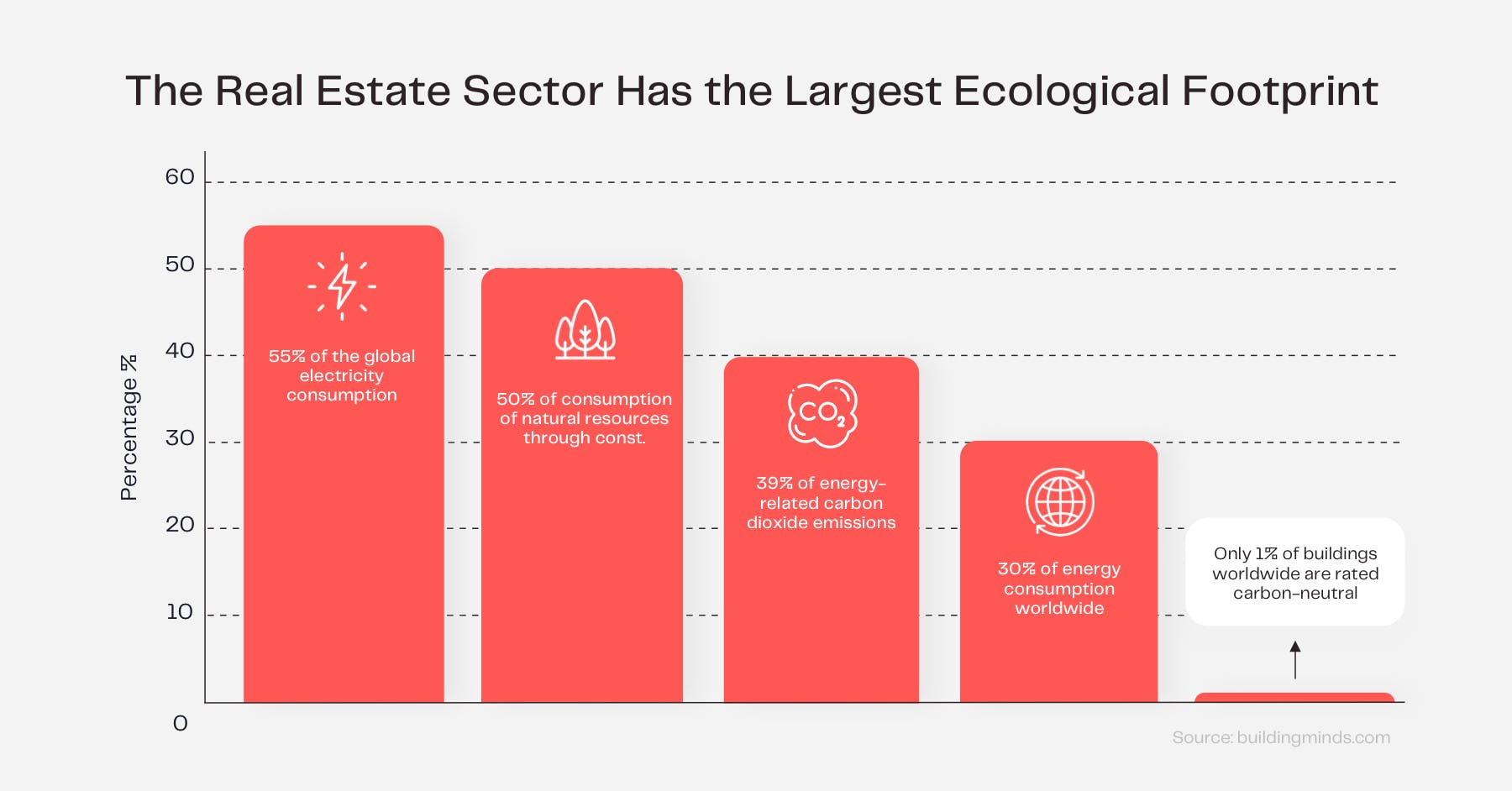 Although these figures are a major cause for concern, cutting the carbon footprint of real estate is regarded as the most effective measure in which the industry can make a difference. The real estate industry is well-positioned to benefit from the circular economy model that aims to reduce society's growing dependency on natural resources. At its core, the circular economy is a system that is restorative and regenerative by design and follows a resource-conscious strategy that protects the social, economic, and natural environments. 

Integrating circularity measures and technologies will aid real estate organizations in optimizing the resource efficiency of residential and commercial buildings.
How Does Real Estate Impact the Environment?
From the moment a new building is constructed, it changes the natural landscape. Even well after its establishment, finite resources are continually tapped into, no matter if the building is old or new, for the management and maintenance of each structure.

Today more than 80% of the world's energy still comes from fossil fuels. Collectively, the globe's consumption of fossil fuels is still growing, meaning that harmful CO2 emissions from energy are also still on the rise. With energy consumption as the main resource culprit, a household's energy usage spans four main categories: cooling and heating systems (47% energy use), water heaters (14% energy use), washer and dryers (13% energy use), and lighting (12% energy use).

Back in 2010, the average American household used about twenty times more electricity than the typical Nigerian household and almost two to three times more than a typical European home. Fast forward to 2019 and the average annual electricity consumption per capita remains significantly higher in developed countries as opposed to developing ones.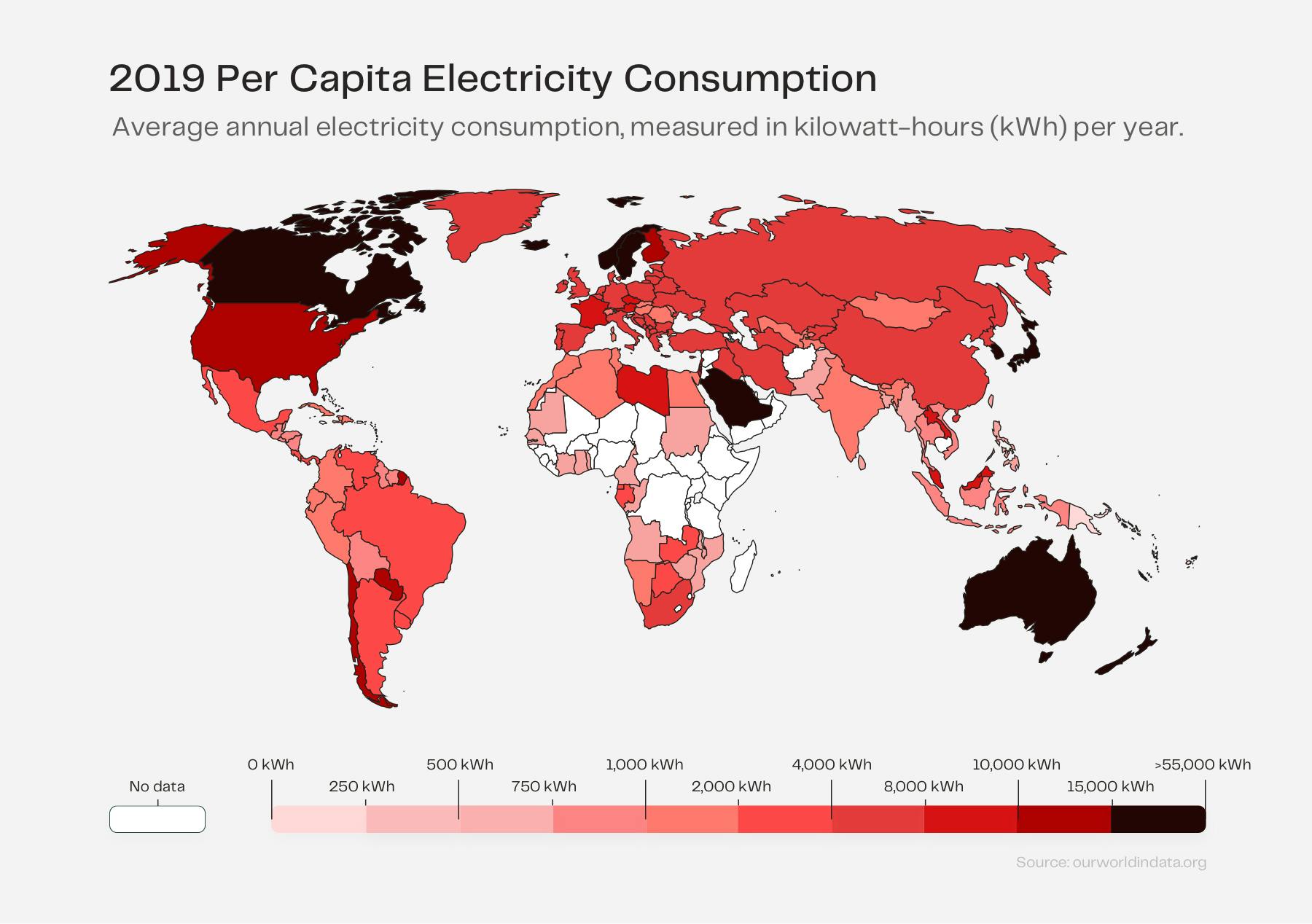 Greater accuracy in fossil fuel pricing back in 2015 would have lowered global CO2 emissions by 28%, reduced deaths from fossil fuel air pollution by 46%, and raised government revenues by 3.8% of global GDP. 

Future projections indicate that by 2030 there will be a 56% increase in CO2 emissions from buildings if adequate measures aren't put in place to alter this adverse trajectory.
Historical Data Spurs Change For Future Progress
At least 80% of the world's building infrastructure will still be in use in 2050. In the EU alone, almost 75% of existing buildings are energy inefficient according to current building standards. 

Across the globe, building owners and tenants alike are recognizing the urgent need to address the negative effects of energy consumption and its resounding impact on the environment. Today's number one priority is understanding and managing the factors that contribute to reducing the emissions caused by global real estate.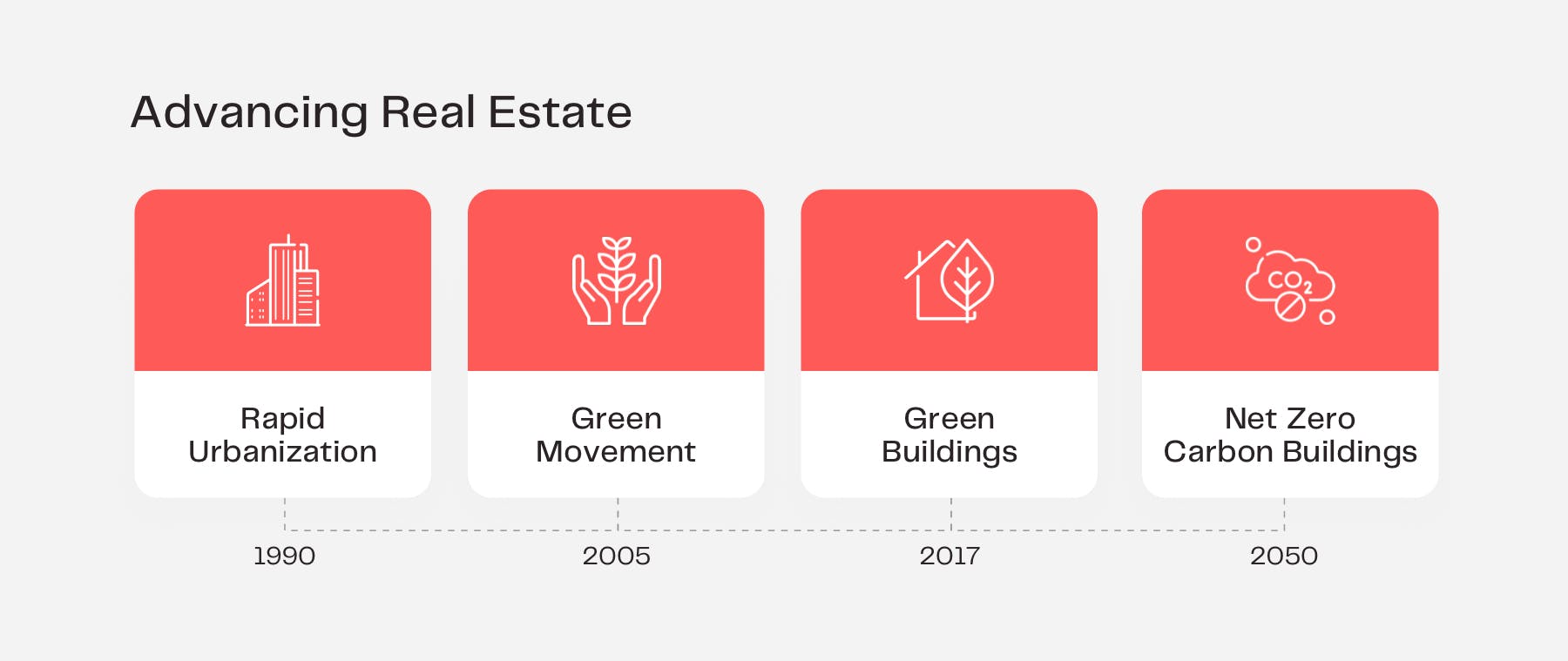 According to the World Green Building Council, in order to comply with the Paris Climate Agreement, all new developments must be carbon neutral by 2030, and by 2050 all buildings will need to be carbon neutral. 

Proactive leadership from national and international governments, as well as meaningful industry partnerships, are needed to seize this opportunity. Deploying low-carbon measures in cities could reduce greenhouse gas emissions from urban buildings, materials, transport, and waste by nearly 90% by 2050. This would contribute to over half of the global energy-related emission reductions needed to keep global warming below 2°C.

Real estate owners must do their part in managing the transition to zero-carbon, climate-resilient buildings to help secure greater economic prosperity, improve quality of life, and tackle the climate crisis.

Enabling policies and investment funds can stimulate climate action by setting binding emission reduction targets for countries around the globe. The current investment amount required to reduce urban emissions stands at $1.83 trillion (about 2% of global GDP) per year, but it would generate annual savings of over $2 trillion in 2030 and over $6 trillion in 2050.

Governments are increasingly introducing and enforcing stricter building legislations, which has led to property owners seeking more sustainable and energy-efficient solutions. Global initiatives have produced several important accords, including but not limited to the following:
Sustainability Requires Digitalization
In real estate, reducing energy consumption continues to be the top environmental reason for building green. This is closely followed by the need to protect natural resources and reduce water consumption. 

Real estate owners are focused on future-proofing their portfolios against climate change, pandemic risks, and other anticipated crises by investing in data-driven solutions. By embracing technology, real estate owners can benefit from the value that goes beyond environmental protection to include economic benefits and better relationship management with tenants as a result of improving their standard of living with optimized systems.

Investing in sustainable digitalization practices within the industry answers the question: 'Can a real estate organization do well while doing good?"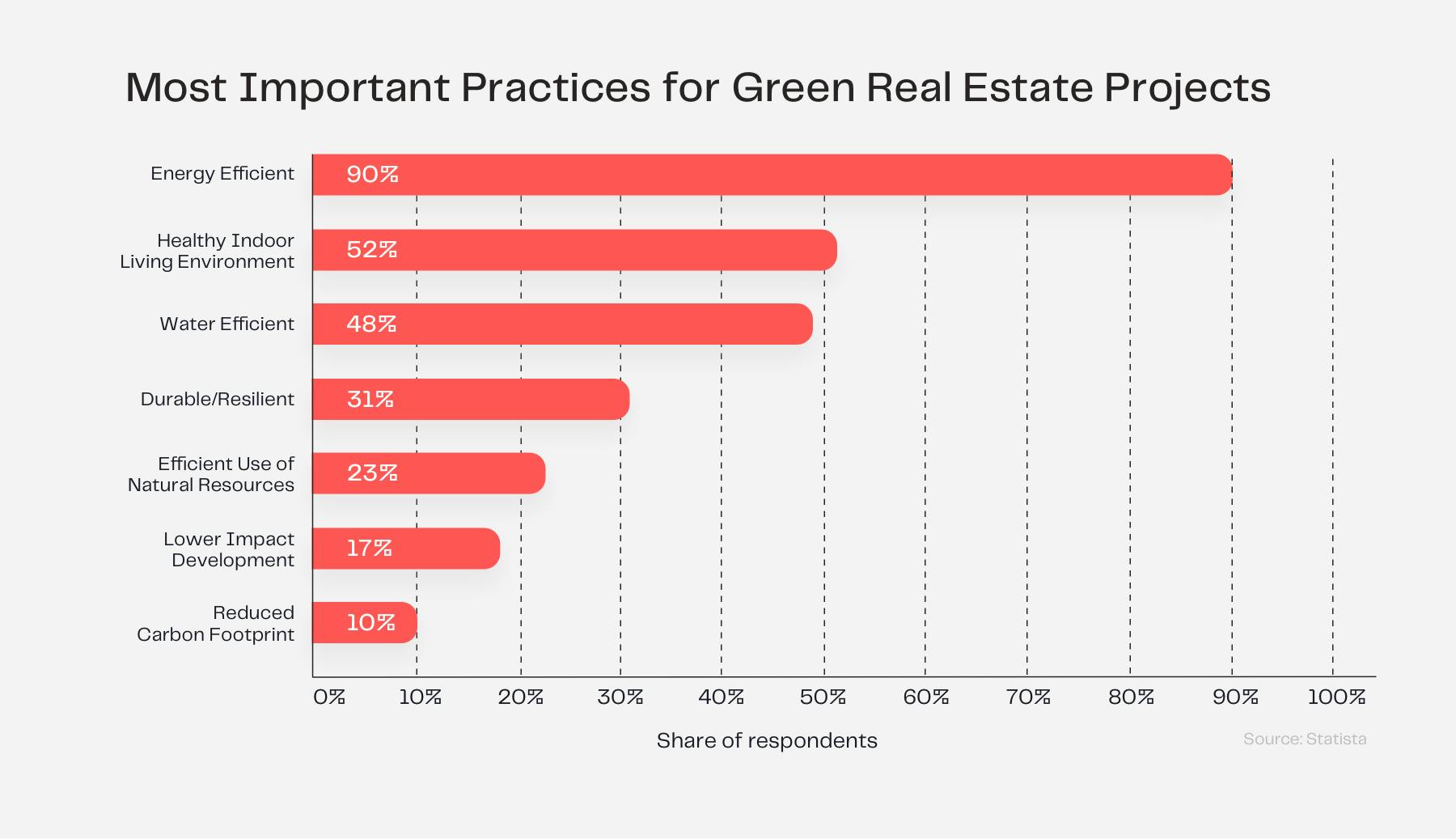 Real estate owners that place technology and intelligent systems at the center of their strategy to deliver shared prosperity while reaching net-zero emissions will follow a similar methodology:
Align on national, and international, policies aimed at energy efficiency
Raise and steer investment in sustainable building infrastructure
Coordinate and support strategic technology partnerships for greater data transparency and smarter decision-making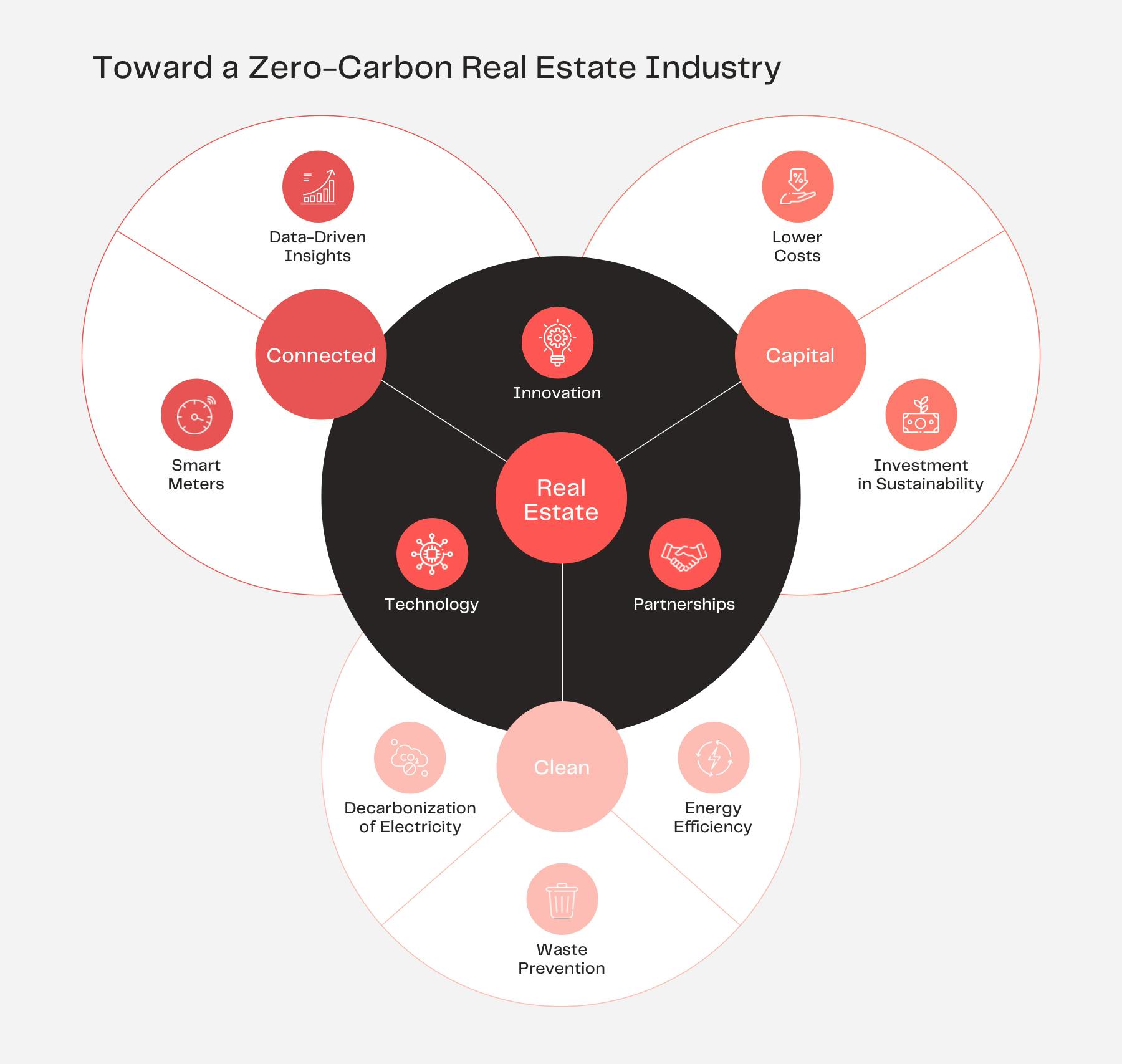 In 2018, the expected payback period for green buildings for green retrofits/renovations was valued at:
Between 1-2 years: 8%
Between 3-5 years: 39%
Between 6-10 years: 35%
More than 10 years: 18%
While green building activity continues its ascent, 57% of building owners are planning to make the majority of their projects green by 2021. Green buildings offer significant operational cost savings when compared with traditional buildings. Predictions indicate a 14% savings in operational costs over five years for new green buildings and 13% savings in operational costs over five years for green retrofit and renovation projects. Building owners also report that green buildings — whether new or renovated — result in a 7% increase in assets.
Digital Solutions: A Window of Opportunity
Using technology to decrease CO2 is seen as the most important first step toward becoming a carbon-neutral economy by 2050. Although there are many solutions already in existence today, their potential is far from fully realized.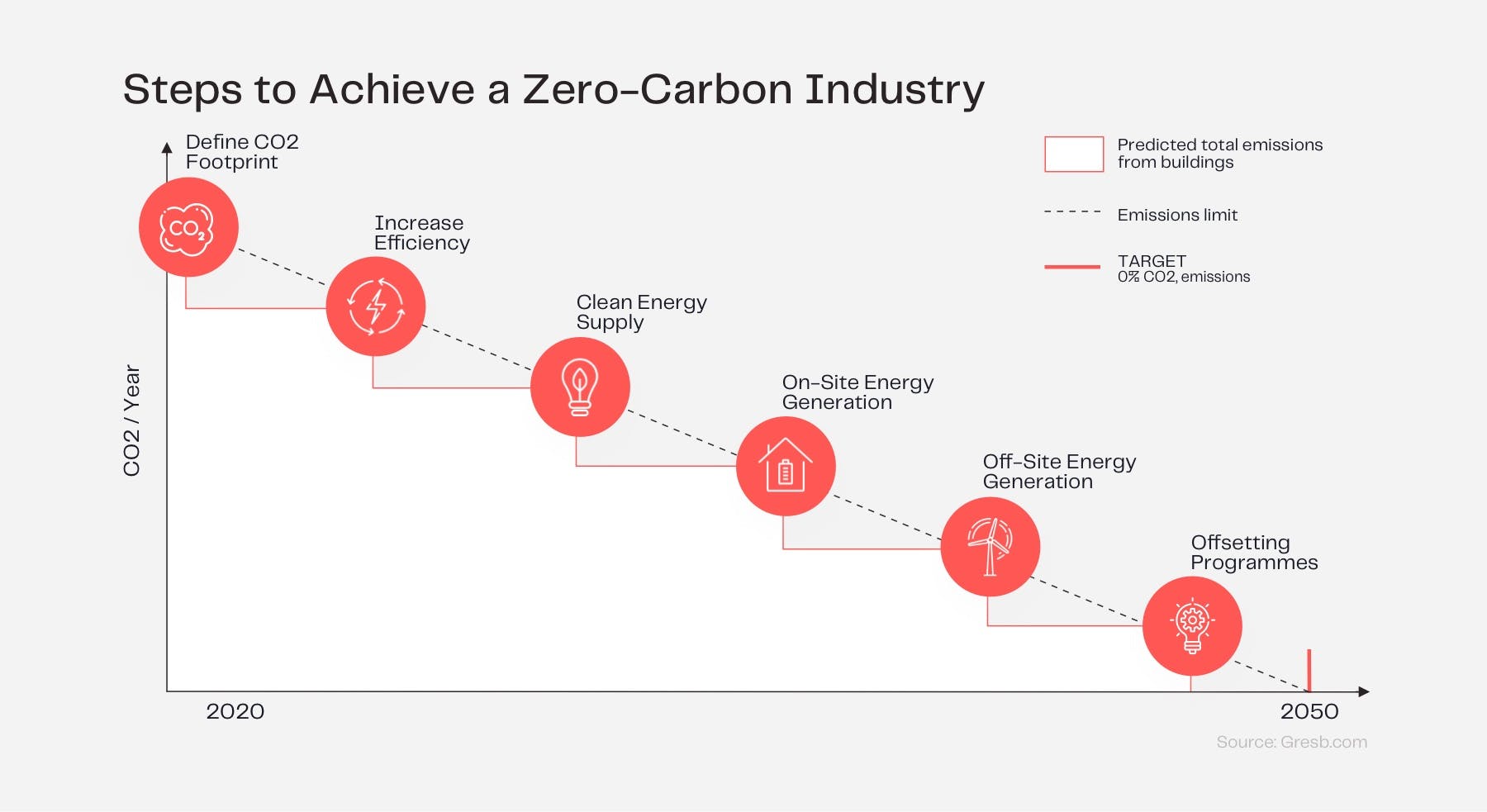 Merging physical structures with smart digital systems will ensure the highest level of organizational intelligence in real estate. Information about consumption patterns and areas where impact can be reduced will only be achieved by comprehensive data gathering and the proper application of digital solutions. 

For existing structures, this means digitizing and retrofitting traditional processes. This concept can be better understood by comparing a conventional electricity meter with a smart meter:
Conventional electricity meter
- Display: analog meter with spinning dials
- Measure: electricity used over a billing period (usually one or two months)
- Recording: manual reading; company staff visit the premises to record data
- Communication: no capability

Smart electricity meter
- Display: digital meter with numerical display
- Measure: how much and when electricity is used (typically hourly with a date and time stamp)
- Recording: automated reading; meters send data electronically to distribution companies 
- Communication: two-way communication between smart meters and distribution companies
Intelligent building systems are capable of gathering and analyzing real-time data. To this end, sensors form the foundation of data-driven real estate services. With prices about half of what they were just five years ago, sensors can free providers from rigid processes, enabling them to adapt their services on an as-needed basis.

Many real estate owners are excited about the way in which data will help building operations and maintenance to become more predictive rather than reactionary. The following technologies are examples of what solutions are already in use to maximize infrastructure efficiency:
Predictive analytics
- Real-time data from buildings enable portfolio managers and tenants to forecast maintenance needs long before a problem arises.

Smart metering
- Smart meters communicate information to the consumer for greater clarity of consumption behavior, and electricity suppliers for system monitoring and customer billing.

Real-time monitoring
- Sensor readings are connected to an application dashboard that visualizes data gathered from real estate assets, detailing any performance anomalies and alerting property owners and tenants of any urgent issues.

Cloud infrastructure
- Cloud computing makes vital information (e.g. client data and property details) and tools (e.g. email and calendars) instantly accessible online, from anywhere with an internet connection.
Data-driven analytics uncover underlying trends and new potential not identified by traditional building systems. AI implementation is key to processing vast amounts of data and gaining critical insights from previously unrelated data points. For example, real estate owners can compare the energy usage of one building to that of another in the same zip code area to reveal new metrics for improving sustainability goals. Such insights can give building owners an edge in highly competitive real estate markets.

While a significant amount of smart building systems exist, many properties use different supplier applications (e.g. water meters and electricity meters) that are often unconnected with one another. This data exists in silos and isn't effectively brought together for comprehensive analysis. Currently, only 49% of real estate owners share data with tenants which means that they are missing out on the opportunity to build trust and increase engagement with end-users. In addition, a lack of transparency and questions about data quality cause information asymmetry which could result in the mismanagement of real estate assets.

As digitization advances, real estate owners face the challenge of managing data locked in various applications within their portfolio of buildings. Around 48% of real estate organizations believe keeping up with the pace of technology is a major challenge.

A number of PropTech organizations have risen to the challenge with solutions that make real estate data more readily available and transparent for better decision-making about resource consumption.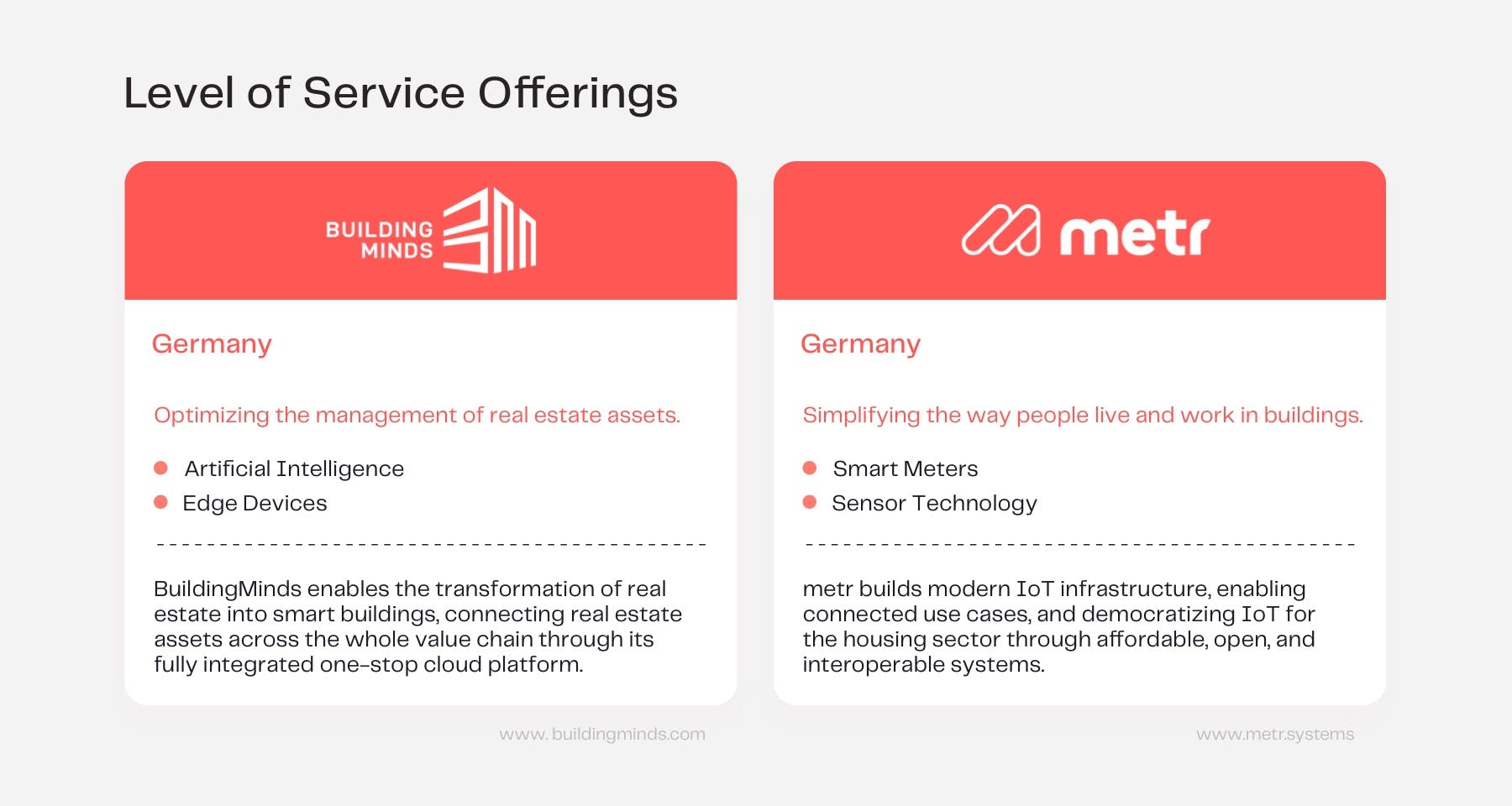 With many areas of real estate well-positioned for improvement, the industry has become a magnet for technological innovation.

In 2019, well-known elevator and escalator provider, Schindler, announced the formation of BuildingMinds, a startup created to optimize the management of real estate assets through a software-as-a-service platform (SaaS). BuildingMinds uses Microsoft's Azure and Dynamics 365 cloud platforms to develop a fully integrated, product-agnostic solution that improves transparency and operational efficiency by allowing building owners to centrally manage all properties and service providers.

Another organization making significant traction in the PropTech industry is Next Big Thing AG's portfolio venture, metr. metr builds modern IoT infrastructure that enables connected use cases for the housing sector through affordable, open, and interoperable systems. The company is revolutionizing the way buildings will be managed in the future by making them more efficient, user-friendly, networked, and data-driven with the use of smart meters and real-time analytic dashboards.

Many organizations have access to historical building data but miss out on the opportunity to use it to their advantage as a result of hesitant digitalization. Around 94% of owners believe that their buildings are more valuable after conducting green retrofit renovation projects. This indicates that an understanding for outdated systems to be replaced exists, however, execution from real estate owners remains sluggish.

On average, only 45% of real estate stakeholders plan to increase their investments in cloud, robotic process automation (RPA), AI, and digital channels over the next 12 months. While this figure remains modest, the demand for data-driven intelligence in building management solutions is still growing.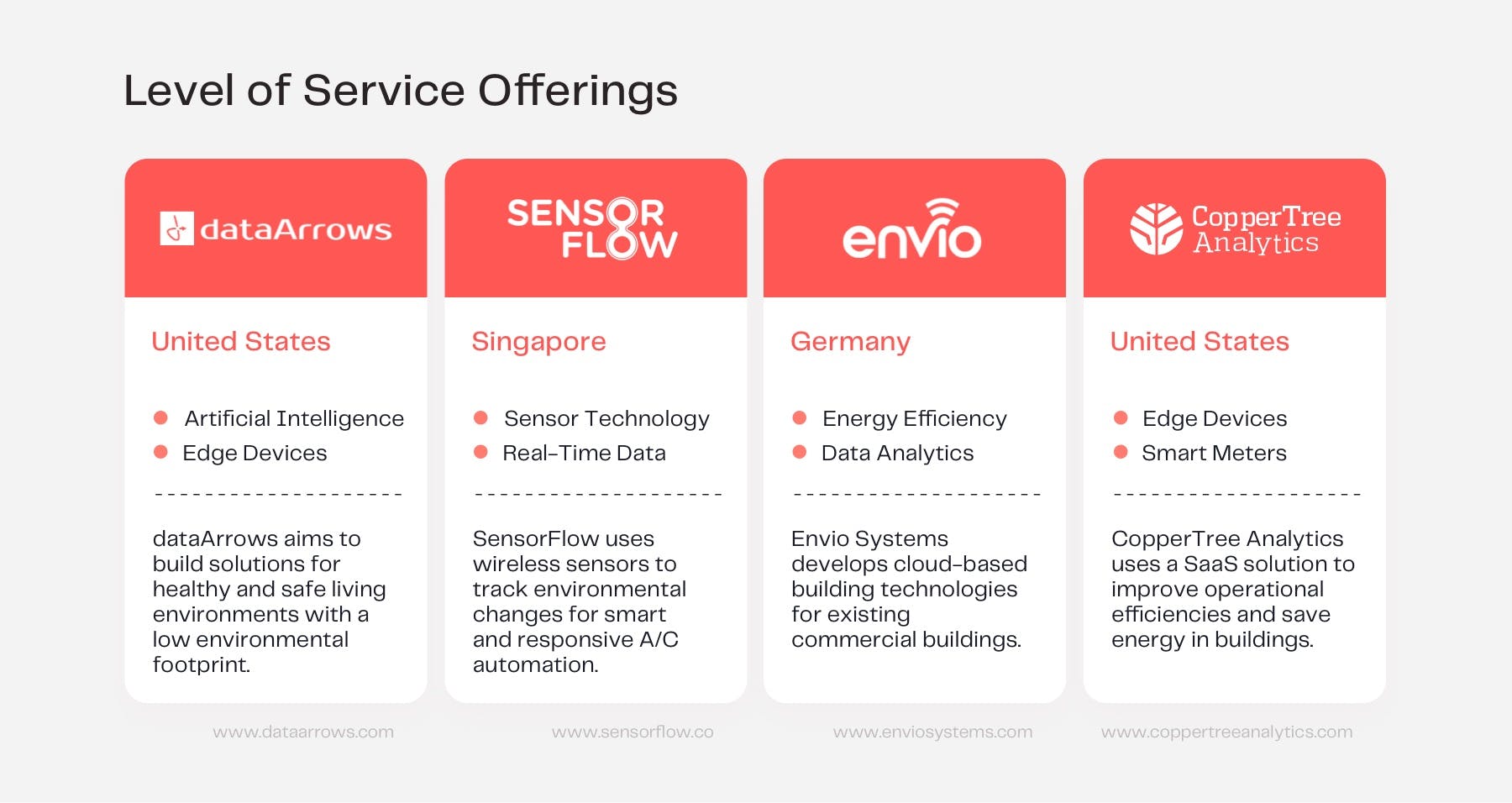 The above diagram showcases a small sample size of global PropTech companies (dataArrows, SensorFlow, Envio, and CopperTree Analytics) developing solutions to enhance real estate asset utility. Investment into PropTech innovations has predominantly been driven by the need for improved efficiencies, cost reductions, and enhanced decision-making for real estate stakeholders.

Between 2014 and 2019, funding in PropTech grew by 776% and is expected to continue growing. In 2019, over $2 billion of investment was poured into PropTech companies. Investment into environmental and security technology is among the top priorities to enhance the real estate's end-user experience:
58% - Facilities with smart capabilities such as lighting control and room temperature control
55% - Safety and guidance across the property such as 24/7 online support services
49% - Interactive mobile apps to access building services or to navigate the property
More Than Just 'Location, Location, Location'
The need for the real estate industry to embrace innovation, technology, and sustainability into its long-term strategy is inevitable. 

Future real estate pioneers will be characterized by their commitment to sustainable digitalization which includes contributing to improvements in environmental sustainability at the local and urban levels, as well as working cooperatively with tenants, governments, and other stakeholders to achieve sustainable targets. Data-driven real estate management is the key to enabling both environment and organizational sustainability – meeting environmental and ethical requirements while maintaining and building resilient businesses. 

Prevention, protection, and resilience are key to preparing for the future of sustainable real estate.