Jun 30, 2021
The Role of Sustainable Technologies in Achieving the SDGs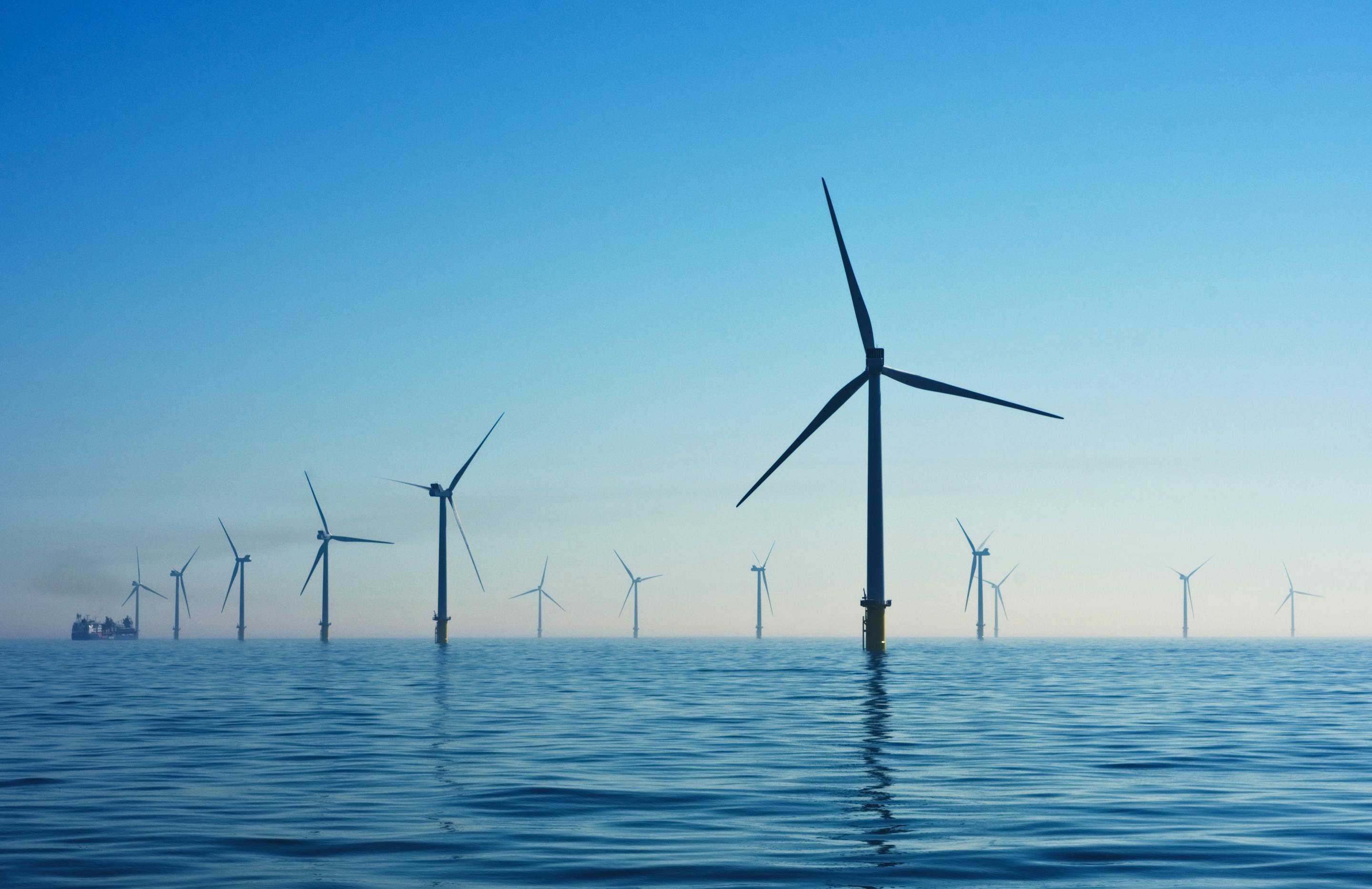 In 2015, 193 United Nations Member States came together to commit to tackling 17 ambitious global goals — the Sustainable Development Goals (SDGs) — with 169 targets by 2030.

Built on decades of work, the 2030 Agenda for Sustainable Development provides a shared blueprint for the prosperity of people and the planet. The 2030 Agenda maintains that "no one will be left behind". This principle requires global participation in achieving environmental, social, economic, and governmental development. At the heart of the Agenda are the 17 SDGs which act as an urgent call for action by all countries in a global partnership to collectively strategize ways to achieve a more sustainable future for all.

While using frontier technologies to achieve the SDGs has long been considered a moving target, Science, Technology, and Innovation were identified by the UN as one of the main "means of implementation" to achieve the goals by 2030. Digitalization, in particular, plays a significant role in achieving the SDG targets by improving the efficiency and effectiveness of sustainable development across various industries. However, global stakeholders still have a long way to go to ensure that the SDGs are met by their impending deadline.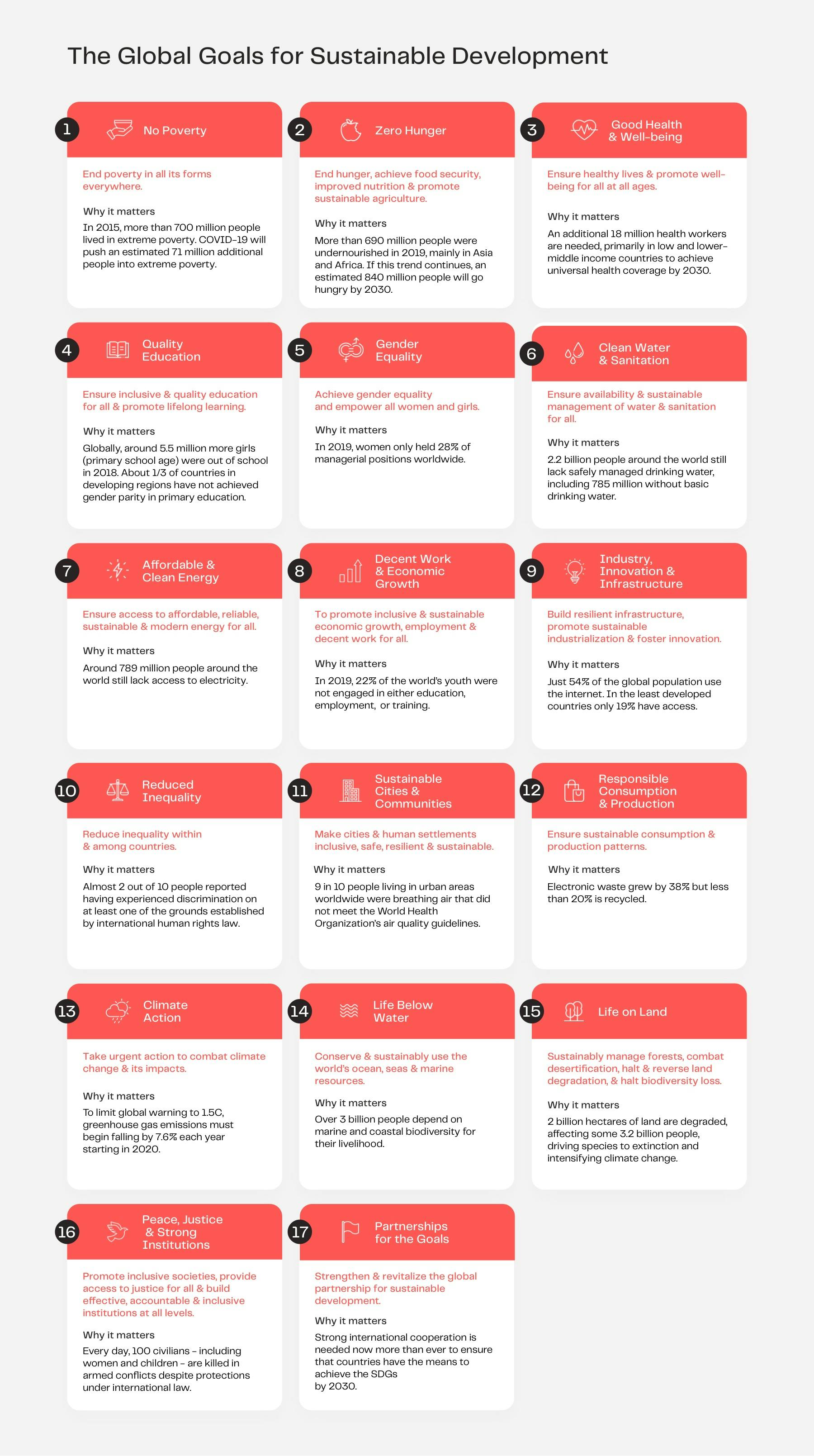 Creating a More Sustainable Planet with Digital Technologies
As the cornerstone of many industries, new technologies are rapidly transforming all aspects of our society, economy, and environment. An estimated 70% of new value created in the economy over the next decade will be based on digitally-enabled platforms. To redirect current unsustainable development trajectories, affordable technological solutions have to be developed and disseminated widely over the next few years.

Even though billions of people around the globe are already connected to the internet, more can be done to use this new era of enhanced processing power, connectivity, storage, and sharing. For example, technology could help minimize inequality by providing access to basic services, such as e-health or online education.

IoT, data analytics, and sensors are helping to solve some of the world's most pressing issues by:

Networking and communicating
Sharing valuable information across networks, machines, and devices.

Monitoring and tracking
Facilitating real-time data capture and reporting operational performance of connected systems.

Analyzing, optimizing, and predicting
Deriving insights from collected data to make more informed decisions about process efficiencies for the future.

Augmenting and automating
Bridging the digital and physical worlds through remote control and the creation of autonomous systems.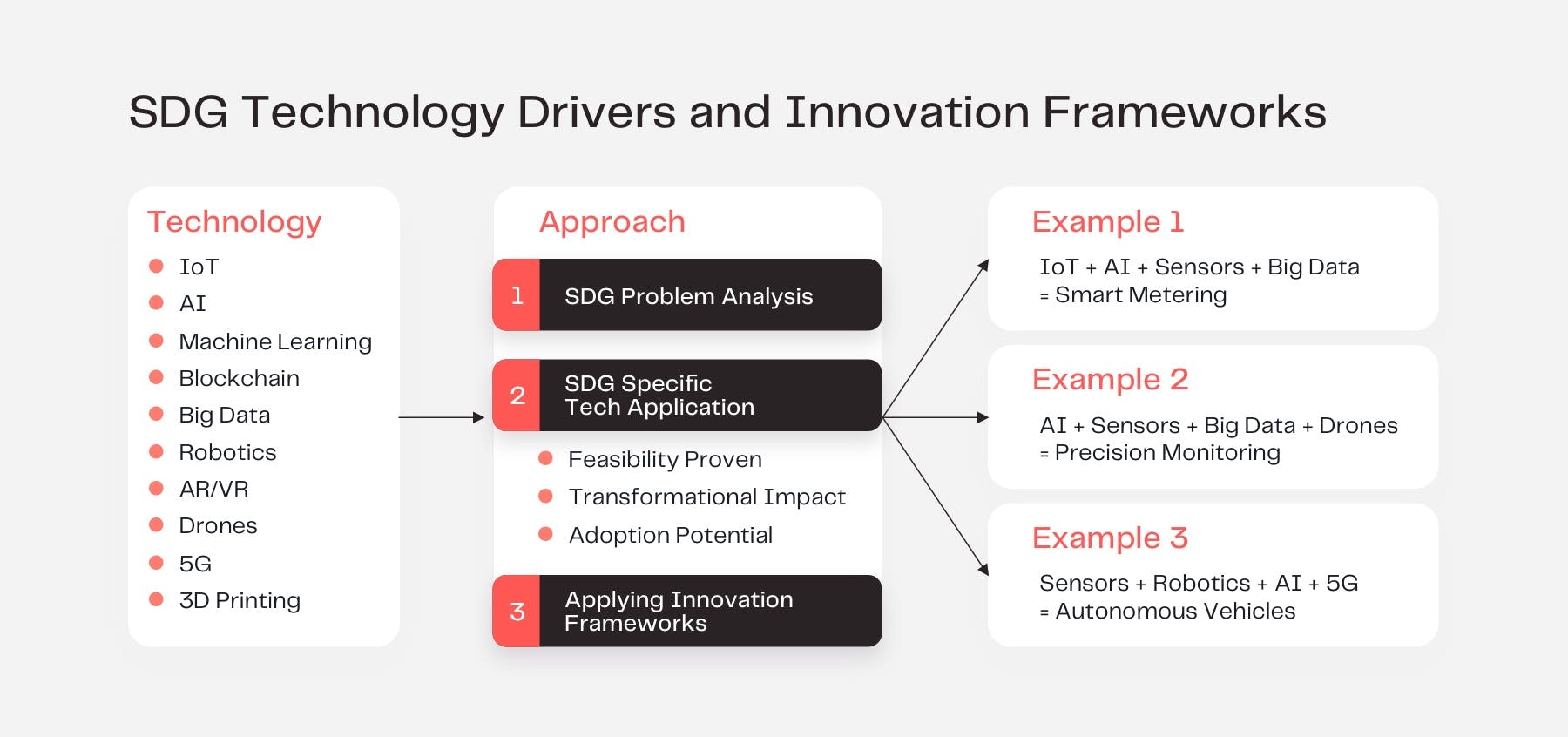 Today, governments and businesses are leveraging advanced technologies to introduce new business models, promote sustainability, and improve the general standard of living for today's global citizens.

There is an untapped opportunity to harness new technologies to accelerate progress on the Global Goals that will both broaden and deepen current action. IoT, AI, machine learning, blockchain technology, 5G, robotics, and cloud computing are several technologies that are being leveraged in solutions to achieve the SDGs. These technologies connect citizens around the world, monitor and track environmental impact, and optimize industrial inefficiencies. Ultimately, they are transforming traditionally wasteful practices into sustainable and efficient means of operation.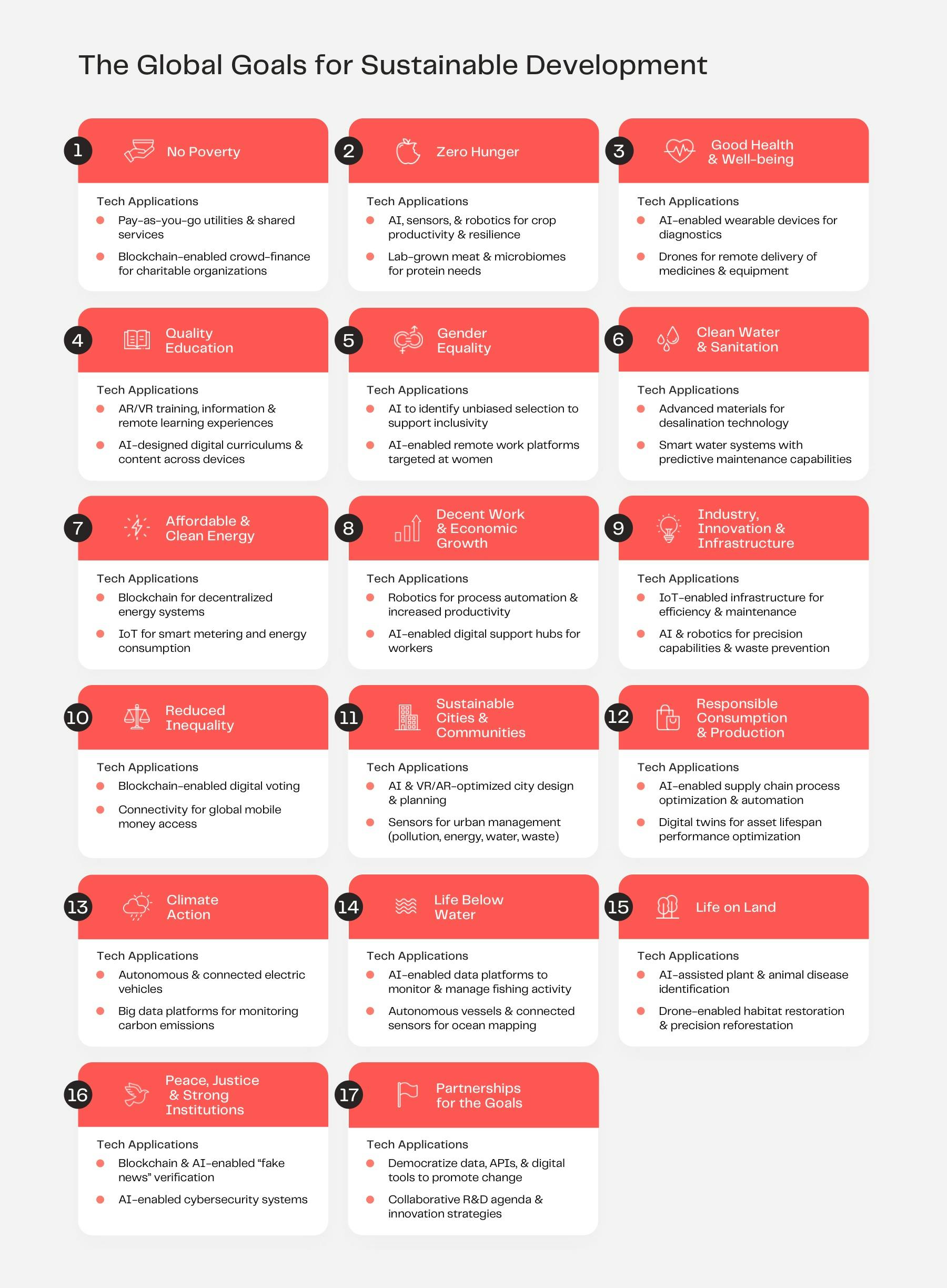 Current technological solutions are giving a glimpse into what will be possible in the future with further development. Global trends indicate that investment into technological innovation continues to rise with no signs of slowing. This is especially true when it comes to using technology for good with applications in the renewable energy and healthcare sectors.

In 2019, the total new investment in renewable energy amounted to over $300 billion worldwide, resulting in a 2% increase from the previous year.  The global Green Technology and Sustainability market size is expected to reach over $36 billion by 2025, at a Compound Annual Growth Rate (CAGR) of 26.6% during a five-year forecast period. Growing consumer and industrial interest in the use of clean energy resources to conserve the environment and the increasing use of RFID sensors across industries are driving the adoption of green technology and sustainability solutions in the market.

As illustrated in the diagram above, technologies are being used to positively impact each of the SDGs, however, the goals that stand to benefit the most from implementations of technology are as follows:

The SDGs continue to garner widespread backing among organizations and investors who are making modest progress towards aligning business strategies and capital allocation with the SDGs. By pursuing data-driven analysis for oversight across the entire business value chain, applications of technology are extremely useful for organizations to learn where to minimize risks and maximize both SDG impact and financial returns.
Each year, the SDG progress of all 193 UN Member States is recorded. In 2021, Finland, Sweden, and Denmark are situated at the top of the log, closely followed by Germany. The overall score measures each country's total progress towards achieving all 17 SDGs. The score can be interpreted as a percentage of SDG achievement. A score of 100 indicates that all SDGs have been achieved.
Whilst the clock is still ticking and the adverse effects of climate change increase dramatically, there's increasing adoption of digital technologies to advance a shared vision of contributing to a more sustainable future.
The above diagram showcases a few examples of organizations (Everimpact, Ellipsis, vitreo, metr, mDoc, and Freewa) developing sustainable solutions that support the targets of the global SDGs. Established organizations and startups from emerging economies are well-positioned to create business synergies that earn profits while also solving social problems. Collaboration across organizations, industries, and regions forms part of the global SDG strategy to embrace innovation-driven development, digitalization, and new technologies.
2020-2030: The Decade of Action
2020 marked the start of the Decade of Action to deliver the SDGs by 2030. New technologies will be essential for achieving the SDGs as they offer a solution to the urgent need for accelerated progress to fulfill the goals by 2030.

Leading companies are already taking action, but time is limited. More partners must join forces to bring about change for a more prosperous and sustainable future. These partnerships are necessary to build the infrastructure required to deliver services to the Global South as well as to facilitate the investment, inclusion, and innovation required by the SDGs.

The UN Member States are paving a sustainable way forward for the betterment of the world. Together, they are collectively working on the globe's ultimate "to-do list". Global partnerships are the driving force behind the solutions that will lay the foundation for a sustainable way forward.