Sep 12, 2023
The Southeast Asia Startup Revolution: How to Seize the Opportunity and Make Your Mark in a Thriving Ecosystem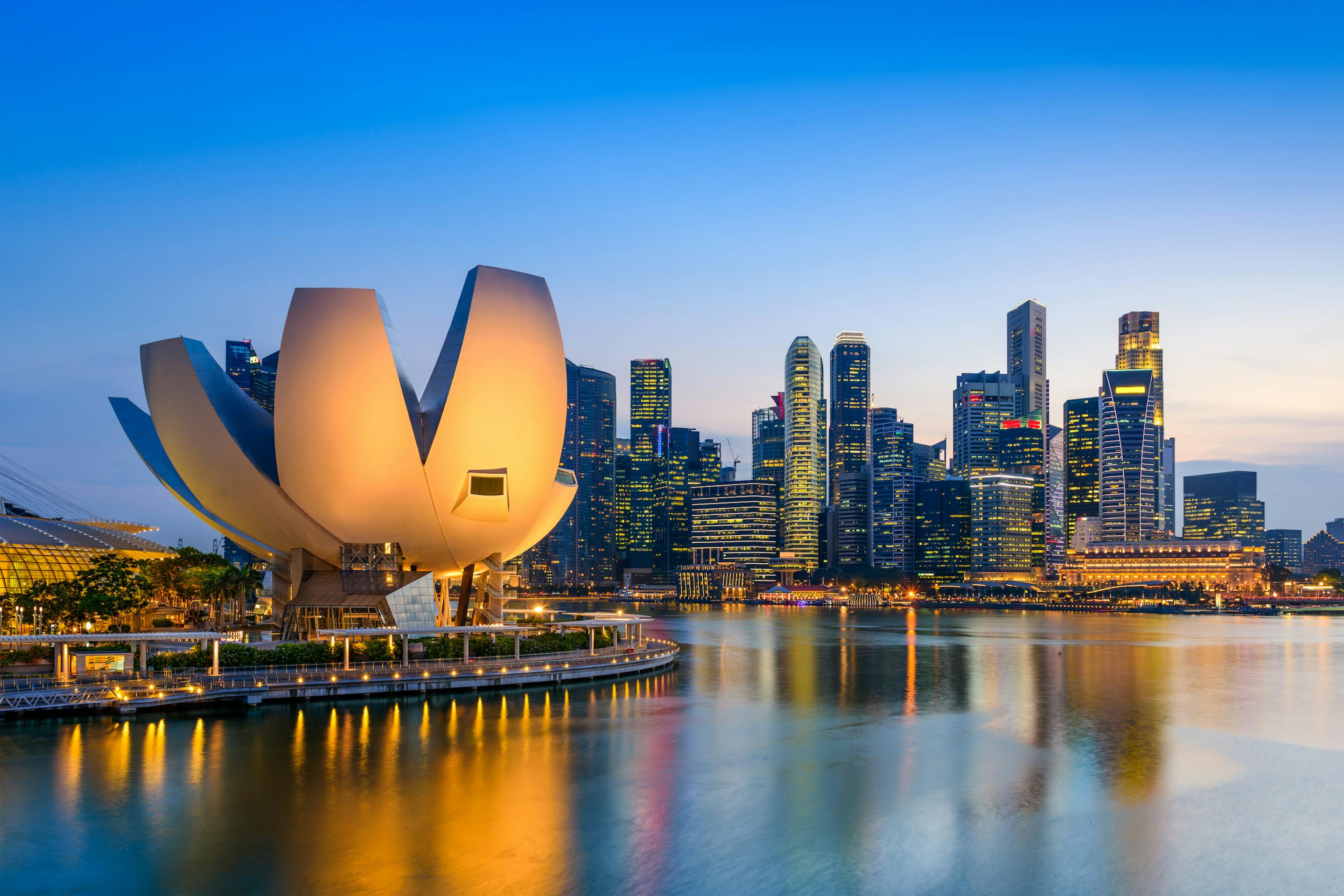 Southeast Asia has become a hotbed of innovation and investment opportunities. The region is home to over 600 million people, a rapidly growing middle class, and a thriving startup ecosystem with plenty of untapped potential. With a strong culture of entrepreneurship, low cost of living and skilled workforce, the investment ecosystem in Southeast Asia is rapidly evolving and presents excellent opportunities for investors to tap into the region's burgeoning digital economy and emerging startup ecosystem. In this post, we will explore the reasons why Southeast Asia is primed for global investment attention. and how you can get in on the action. Whether you are a seasoned investor or just getting started, this post will provide valuable insights about the growing potential of Southeast Asia's startup scene.
Discovering Southeast Asia: A Promising Investment Destination on the Rise

Southeast Asia, also known as ASEAN (the Association of Southeast Asian Nations), has emerged as a promising investment destination in recent years due to its robust economic growth and thriving digital economy. It is one of the fastest-growing regions globally and the fifth-largest economy in the world behind the US, China, Japan, and Germany. Roughly 96% of the region's GDP is produced by Indonesia, Thailand, the Philippines, Singapore, Malaysia, and Vietnam.

According to the Asian Development Bank (ADB), economic growth in Southeast Asia reached 5.5 percent in 2022. The region has a large and diverse market, a youthful population, and rising disposable incomes. Moreover, many Southeast Asian governments are implementing measures to support and promote startup growth, creating a conducive ecosystem.

The digital economy across the 'ASEAN-6' is expected to reach a gross merchandise value (GMV) of US$330 billion by 2025, according to a report from Google, Temasek and Bain & Company.

As a result, tech startups are well-represented in Southeast Asia's start-up ecosystem. The region is rapidly emerging as a hub for startups and tech innovation. Jungle Ventures has found out that Southeast Asia's technology startups had a combined valuation of $340 billion in 2020, and they anticipate this will triple by 2025.

According to a recent UNCTAD report, the number of start-ups in ASEAN that have raised more than US$1 million in funding almost tripled to 1,920 between 2015 and 2021. The growth rate is 85 percent greater than in Europe and 65 percent faster than in the US. A more detailed overview of the impact tech startups have in each country in the region can be found below.

Southeast Asia's Tech Ecosystem: A Hotbed of Rapid Economic Growth and Investment Opportunities

With a population of over 655 million people (if the Southeast were one nation, it would be the world's third-largest population!), the region boasts a large and diverse market that is characterized by a burgeoning middle class, increasing internet and smartphone penetration, and a rise in the digital economy. The region also stands out for its relatively young population, with a median age of 30.2 years. This contrasts with other Asian countries like China, Japan, and South Korea, which are facing a growing aging population. Moreover, Southeast Asia offers a low cost of operations and access to diverse markets. These factors make the region an attractive destination for investors and venture studios looking to expand their reach and support emerging businesses. Let's have a closer look at the characteristics of the market.
1. Rapid economic growth

ASEAN is witnessing rapid economic growth, with economies like Indonesia, Thailand, and Vietnam surging ahead. The population actively seeks the latest consumer goods and services. With increasing demand, investors and venture studios can expect exponential growth in the region if they offer innovative solutions that cater to their needs.
2. Booming middle class

The middle class in Southeast Asia is experiencing rapid growth, with an estimated 50 million new consumers joining its ranks by 2022. This group of hardworking individuals is fueled by rising incomes and increased access to the digital economy. They are able to shape their modern identities through digital connectivity while still maintaining ties to their traditional cultural backgrounds. Their growing numbers are reshaping industries and creating new market opportunities for businesses.
3. Increasing Internet and smartphone penetration

Over the past three years, the region has witnessed the emergence of 100 million new internet users, as well as an increase in smartphone penetration. With nearly nine out of ten internet users in Southeast Asia utilizing smartphones, mobile internet consumption is rapidly rising. This presents significant opportunities for businesses to tap into the region's fast-growing digital economy and leverage its emerging startup ecosystems to create disruptive innovations. Additionally, the low cost of operations in the region makes it an attractive destination for investment.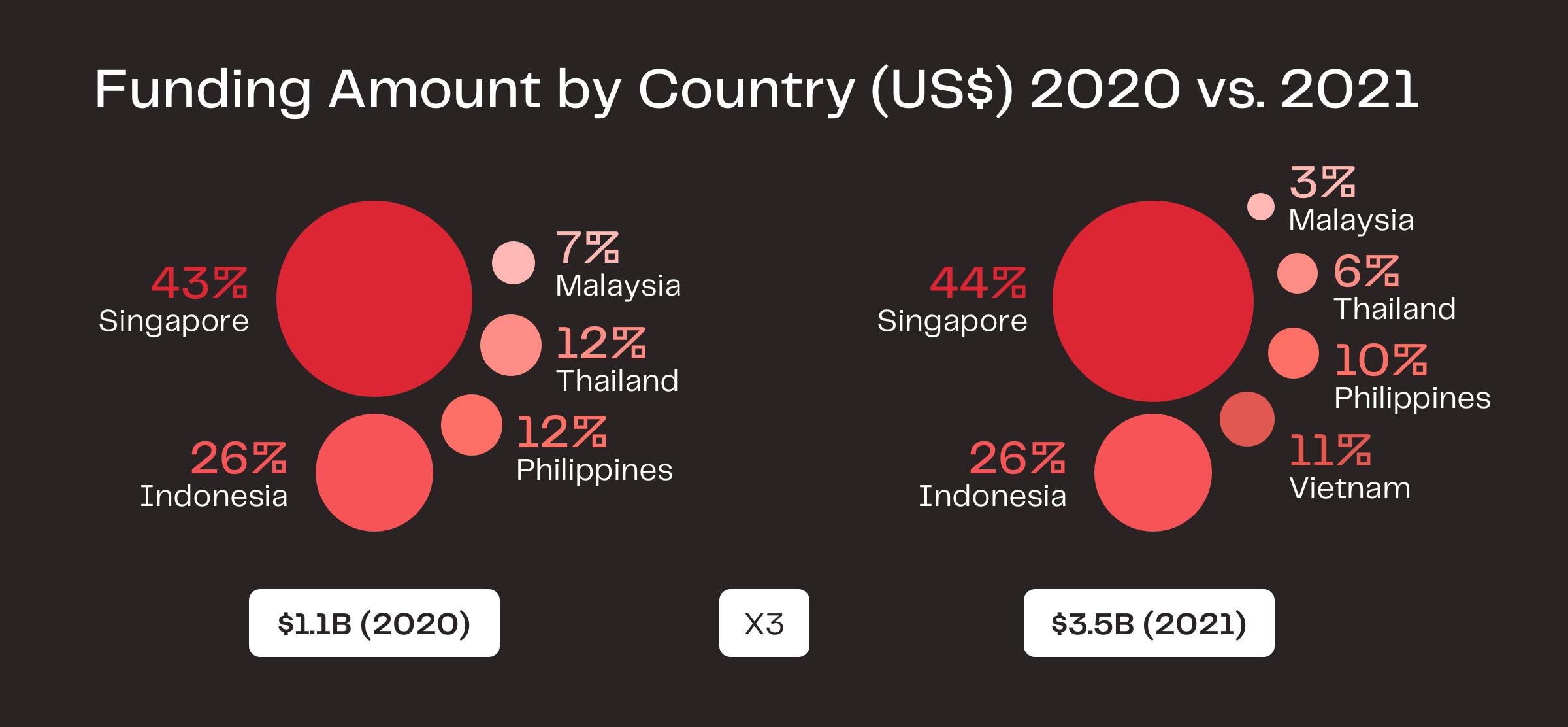 Venture Studios Powering the Growth of Southeast Asian Startups

Southeast Asia is rapidly emerging as one of the most alluring venture markets worldwide. Venture capital (VC) investments serve as the primary source of funding for startups in the region. Back in 2010, VC investments in Southeast Asian startups amounted to a mere $100 million.

However, by 2021, the cumulative value of startup deals in the Asia-Pacific region surpassed an impressive $152 billion, matching the total investments made in the United States during the peak of the dot-com era in 2018. While experiencing a decline in fundraising activities in 2022, the region is poised to fare better than any other part of the world amidst the anticipated global economic downturn in 2023. 

Venture studios are a recent development in Southeast Asia, yet their influence on the startup ecosystem in the region is already evident. These studios provide financial support, guidance, and valuable assets to fledgling startups, effectively establishing a stream of innovative enterprises that contribute to the overall economic progress of the area. With the ongoing expansion of Southeast Asia's startup ecosystem, venture studios are poised to assume a progressively pivotal role in shaping its trajectory moving forward. They particularly benefit from these aspects:
Access to Diverse Markets

Expanding into the ASEAN region presents a significant benefit in terms of accessing diverse markets. With a population exceeding 600 million and multiple languages spoken, this region offers many opportunities for businesses seeking to enter new markets. Furthermore, the thriving startup ecosystem in the area ensures an abundance of innovative businesses and ideas to engage with. Leveraging this diversity enables businesses to expand their customer base and generate fresh revenue streams within a rapidly growing and dynamic region.
Cost-Efficient Operations

In addition to the flourishing startup ecosystem and growing markets, Southeast Asia provides a cost-efficient environment for business operations. With lower labor and production costs, businesses can maximize their profits and reinvest in expansion. Venture studios can capitalize on these cost advantages to offer enhanced resources for startups in the region. Consequently, Southeast Asia has become an attractive destination for expansion and investment in the digital economy due to its favorable cost structure.
Rise of the digital economy

The digital economy has witnessed global growth, revolutionizing business practices and lifestyles. Southeast Asia has embraced this trend with a rising number of internet users and the widespread adoption of digital technologies. This shift has disrupted traditional industries and opened up new prospects for startups, ranging from e-commerce to mobile payments. By expanding into Southeast Asia, Venture Studios can capitalize on this digital revolution and contribute to driving innovation in the region.
Emerging startup ecosystems

The startup ecosystem in Southeast Asia is rapidly gaining recognition for its emergence and growth. The region is experiencing a surge in creativity and innovation, fueled by a growing community of young entrepreneurs eager to make their mark. Southeast Asia boasts immense potential for disruptive innovations, and as the digital economy continues to expand, so do the opportunities for startups to thrive. With supportive communities and an increasing number of venture studios providing crucial resources, Southeast Asia is on the path to becoming a prominent player in the global startup landscape.
Potential for disruptive innovations

Southeast Asia presents fertile ground for disruptive innovations to flourish. Its vast and diverse population is increasingly connected through the internet and smartphones. The region's rise in digital economies and the establishment of emerging startup ecosystems create ample possibilities for new ideas to thrive. Venture studios play a vital role in supporting these innovative concepts, offering early-stage funding and mentorship to entrepreneurs. As a result, Southeast Asia is poised to become a vibrant hub of innovation that can drive sustained economic growth and development in the years to come.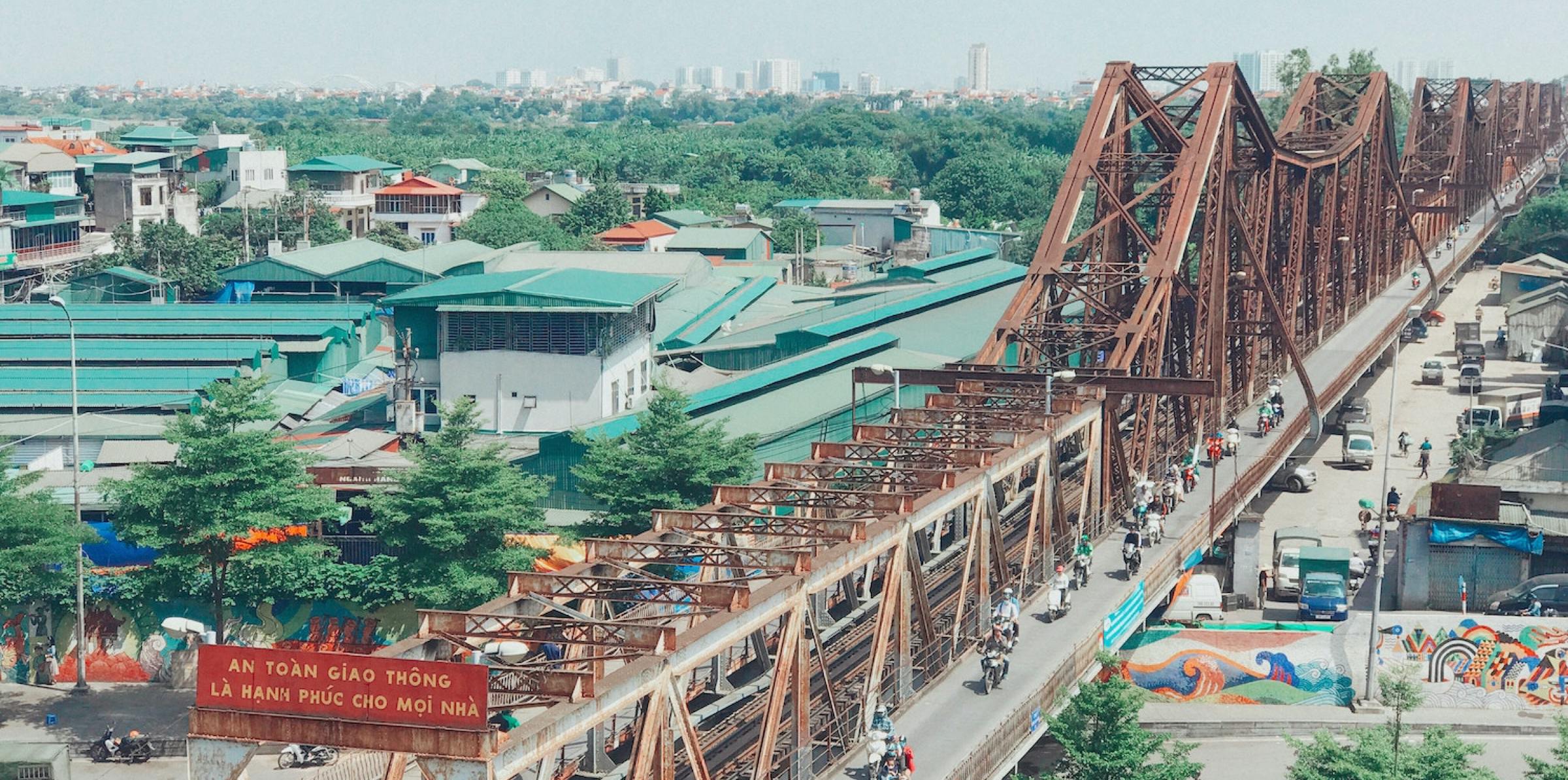 Southeast Asian Startup's Focus Industries and Technologies

Tech startups in Southeast Asia are actively involved in various industries, capitalizing on the region's growth potential and evolving market demands. Some of the most important industries that tech startups are working on include:

· E-commerce and Online Marketplaces: Tech startups in Southeast Asia have played a significant role in the rapid growth of e-commerce in the region. Companies like Lazada, Shopee, and Tokopedia have emerged as major players, providing online platforms for retail, B2C, and C2C transactions.

· Fintech: The fintech sector has gained significant traction, with startups focusing on digital payments, remittances, peer-to-peer lending, digital wallets, and other innovative financial services. Companies such as Grab, Gojek, and AirPay have made a significant impact in the region.

· Food Delivery and Logistics: The rise of food delivery platforms such as GrabFood and Foodpanda has transformed the food industry in Southeast Asia. Startups are also addressing logistics challenges by leveraging technology to provide efficient and cost-effective delivery services.

· HealthTech: Tech startups are harnessing technology to improve healthcare services and access. They are developing solutions in telemedicine, health information systems, digital health platforms, and medical devices aimed at bridging gaps in healthcare delivery across the region.

· TravelTech: The travel and tourism industry in the ASEAN region has seen the emergence of startups offering travel booking platforms, itinerary planning tools, and travel experience enhancements. These startups cater to the growing demand for convenient and personalized travel services.

· Agritech: With a significant agricultural sector in Southeast Asia, startups are innovating in areas such as precision farming, farm management systems, supply chain optimization, and marketplaces for agricultural products with an aim to enhance productivity and sustainability within the agriculture industry.

· EdTech: Tech startups are transforming the education sector by leveraging technology to provide online learning platforms, language learning tools, skill development programs, and digital content for educational institutions and individual learners.

However, it is important to note that the startup ecosystem in the region is dynamic, and new industries and opportunities continue to emerge as the market evolves.

As in the whole world, mobile services and AI play a significant role in technologies. However, the Internet of Things is also taking an increasingly important position and will witness tremendous growth in all segments – Domestic, Industrial and Smart City -, as the revenues show: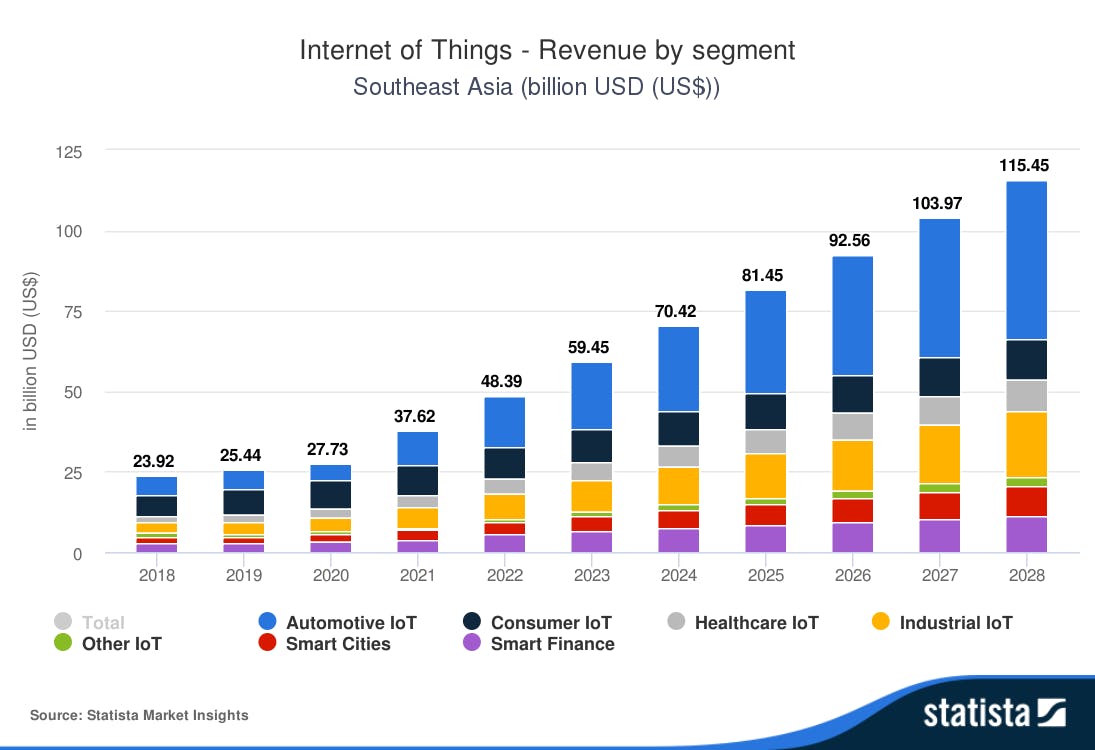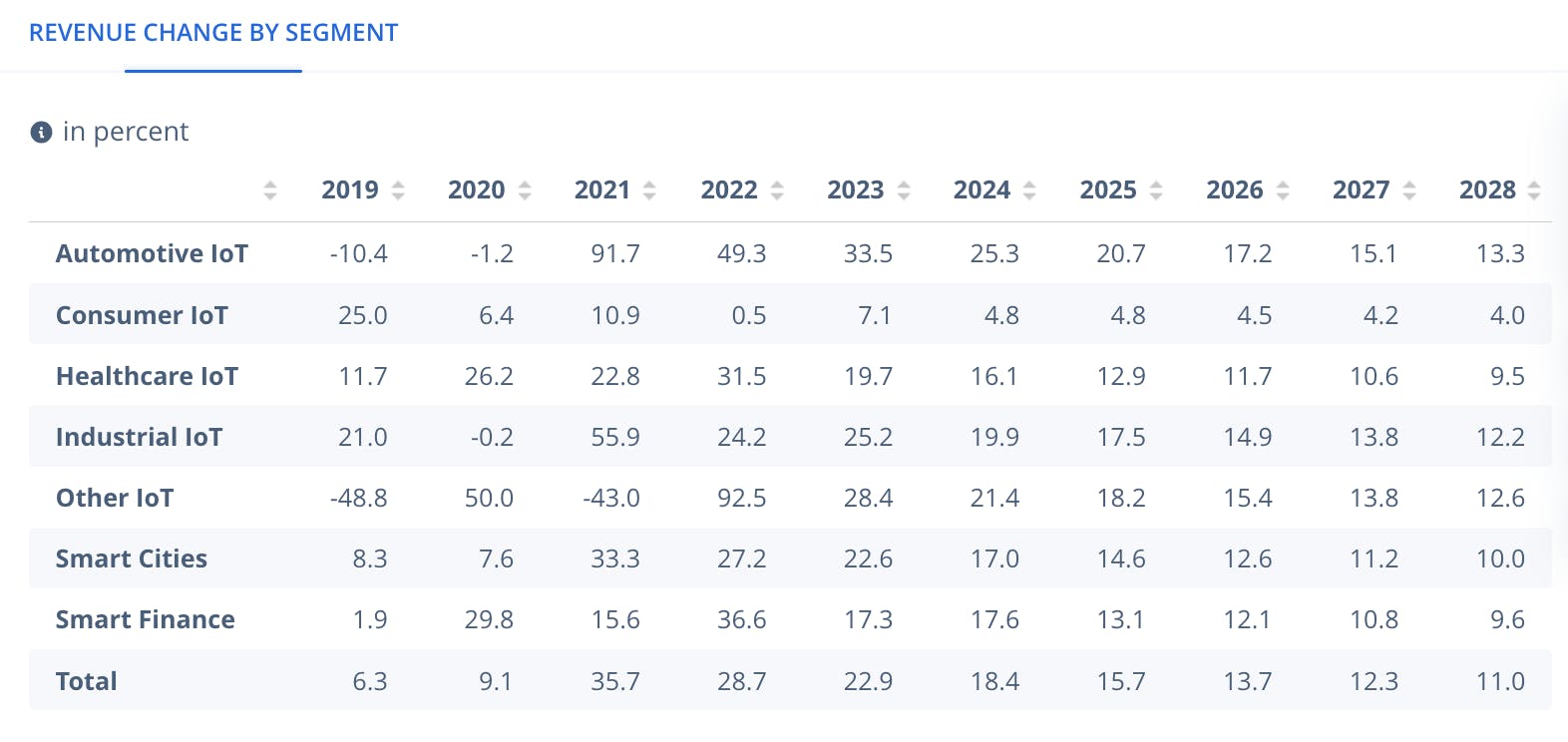 According to Grand View Research, the growth momentum of IoT in Asia is higher than in any other region in the world.
Southeast Asian Startup Monitor in the ASEAN 6

Singapore Emerges as a Global Innovation Hub: Leading the Way in Tech Startups and Entrepreneurship

The dynamic technology landscape in Southeast Asia is fueled by a combination of factors, which include a large and digitally engaged population, increasing internet penetration, growing smartphone usage, supportive government policies, and a flourishing entrepreneurial spirit. Singapore, in particular, is well-known for its vibrant tech startup ecosystem and has emerged as a leading hub for innovation and entrepreneurship. Consistently ranking among the top 10 countries on the Global Innovation Index (GII), Singapore moved up to seventh place in the 2022 edition. It also claimed the number one position in various innovation indicators such as government effectiveness, ICT access, venture capital investors, and high-tech manufacturing.

Global companies have made significant investments in Singapore, creating thriving industry clusters that facilitate knowledge transfer to local enterprises and provide good job opportunities for Singaporeans. In fact, 80 out of the world's top 100 tech companies have established a presence in Singapore, including giants like Google and Facebook.

The Internet of Things (IoT) market in Singapore is expected to experience substantial growth in the coming years due to the country's Smart Nation Project. This project focuses on areas such as smart mobility, smart buildings and environment, smart industry, smart healthcare, and smart governance - all of which will be enabled by IoT. The adoption of IoT will be further propelled by robust telecommunications infrastructure like fiber connectivity, data centers, submarine cables, and the rollout of 5G technology.
Indonesia's Tech Market Booms: Massive Potential for IoT and Startups, Government Support Drives Innovation

Indonesia presents a vast market potential for tech companies, given its population of over 270 million. The country has witnessed the emergence of successful startups in various sectors like e-commerce (such as Tokopedia and Bukalapak), ride-hailing (Gojek), and fintech (OVO and Dana). The government actively supports the digital economy and encourages technological innovation.

According to ASEAN Briefing, the Internet of Things (IoT) market in Indonesia is projected to reach $30 billion by 2022. Its impact will be significant in areas such as reducing healthcare costs, improving industrial productivity, and lowering operational expenses for businesses. The true potential of IoT lies in its application to sectors that contribute 50 percent of Indonesia's economy, including manufacturing, agriculture, and natural resources.
Malaysia Cultivates Thriving Tech Ecosystem: Startups, IoT, and Government Initiatives Drive Digital Transformation

Malaysia has actively fostered its technology ecosystem, with a specific focus on areas such as e-commerce, fintech, and cybersecurity. Kuala Lumpur, the nation's capital, has emerged as a thriving hub for startups. The government has implemented various initiatives to attract foreign investment and drive digital transformation.

The country is strategically positioned to capitalize on the economic opportunities presented by the Internet of Things (IoT). With a 67.8 percent broadband Internet penetration rate and a cellular penetration rate of 145 percent, along with well-established Electric and Electronics (E&E) and telecommunication sectors, as well as a robust foundation of Small and Medium-sized Enterprises (SMEs), Malaysia possesses the necessary infrastructure and resources to facilitate IoT implementation. Furthermore, the government has introduced several innovation initiatives that lay the groundwork for the development of an extensive national ecosystem capable of enabling the widespread use and industrialization of IoT. This serves as a new catalyst for national economic growth.

Malaysia's National IoT Roadmap aims to position the country as the premier regional hub for IoT development. Its mission is to create an ecosystem that fosters the adoption and industrial application of IoT, serving as a significant source of economic growth. It is projected that by 2020, the IoT industry will contribute RM9.5 billion to Malaysia's gross national income, increasing to RM42.5 billion by 2025.
Thailand's Tech Sector Surges: E-commerce, Fintech, and Food Delivery Drive Growth

Thailand's technology sector has experienced significant growth, particularly in the areas of e-commerce, fintech, and food delivery services. Market-leading companies such as Shopee, Lazada, and Grab have become prominent players in the market. The Thai government actively supports tech startups through initiatives like the Thailand 4.0 policy, which aims to foster innovation and drive digital transformation.

At the heart of the Thailand 4.0 initiative is IoT technology, which is driving the country's digital transformation. Companies like AIS and True Corporation have implemented nationwide narrowband IoT technology. Various IoT applications, including vehicle tracking and smart parking, have reached the commercialization stage, while others like smart metering are still in the trial phase. In a significant development, dtac, a Thai company, has introduced 5G IoT solutions that cater to segments such as smart factories, smart logistics, and smart utilities. This has enabled efficient data collection, analysis, and remote monitoring leading to increased efficiency, reduced operating costs, and preparedness for future digital platforms.

Furthermore, smart logistics solutions powered by IoT and smart sensors promise precise real-time monitoring during transportation. This enables businesses to enhance tracking capabilities and improve security measures. Additionally, collaborations between National Telecom (NT), WhiteSpace (WSP), Delta Electronics (Thailand), and Chunghwa Telecom will pave the way for a 5G private network in Thailand. This network upgrade will enhance IoT capabilities by enabling massive IoT deployments and supporting a higher density of connected devices.
Tech Innovation Thrives in Vietnam: Startups and Key Sectors Drive Growth

Vietnam has emerged as a prominent player in the tech industry within Southeast Asia. The country benefits from a young and tech-savvy population, contributing to the growth of startups and tech companies. Hanoi and Ho Chi Minh City serve as centers for tech innovation, with sectors like e-commerce, fintech, and software development experiencing notable advancements.

In Vietnam, the information and communications technology sector, including telecom, has played a significant role, contributing up to 8.2 percent to the country's gross domestic production in 2021. The adoption of IoT by businesses also witnessed a 20 percent increase, reaching 88.67 percent in the same year. The VIoT Group of Vietnam has partnered with KerLink to launch Vietnam's first nationwide LoRaWAN IoT network.

This network rollout will involve deploying 350 Kerlink gateways across six cities, with an additional 1,400 gateways expected by the end of 2022. The plan is to expand coverage to 10 more cities in 2023. The managed IoT network will provide turnkey solutions, incorporating sensors, connectivity, integration, and applications, such as smart lighting and smart metering, all within a unified open IoT platform.

Furthermore, Vingroup, the largest conglomerate in Vietnam, has entered into an agreement with Intel to develop 5G technology for various industries in Southeast Asian countries. The collaboration aims to explore opportunities for 5G-enabled smart solutions. Additionally, Vingroup and Intel will work together to create and implement smart factory IoT solutions for battery and electric vehicle manufacturing.
Philippines Emerges as a Prime Destination for Startups, Backed by Government Support

The Philippines has a rapidly developing tech ecosystem with a focus on e-commerce, fintech, and outsourcing services. Manila, the capital city, has a vibrant startup community, and the government has been implementing initiatives to support tech entrepreneurship and attract investment. The country is becoming an ideal destination for startups due to the enabling environment it offers as well as its highly skilled talents, according to the Department of Trade and Industry (DTI).

Trade Secretary Alfredo Pascual said that the Philippine startup ecosystem continues to accelerate with a 20 percent growth in terms of deal count, reflecting investors' confidence and interest in the country's startup scene as a possible investment destination. Based on the Global Startup Genome Report in 2022, the Philippine startup ecosystem and Manila's entrepreneurial ecosystem were among the top 20 Global Ecosystems and Top 10 Asian Ecosystems in Affordable Talent. The country also ranked among the top 25 Asian Ecosystems and top 15 Asian Emerging Ecosystems in Funding.

In July 2023, Packetworx Inc. and Actility joined forces to accelerate the advancement of IoT in the Asia-Pacific region. A momentous development in this effort is the deployment of a large-scale LoRaWAN network spanning the Philippines. With over 6,000 state-of-the-art base stations set up throughout the country, the Philippines has achieved a significant milestone in its IoT journey. This expansive LoRaWAN network unlocks the potential for various advanced mobile use cases, such as asset tracking in logistics. Leveraging the strengths of LoRaWAN, which include cost-effectiveness and low power consumption, businesses can experience wide-ranging benefits, including enhanced operational efficiency and optimization.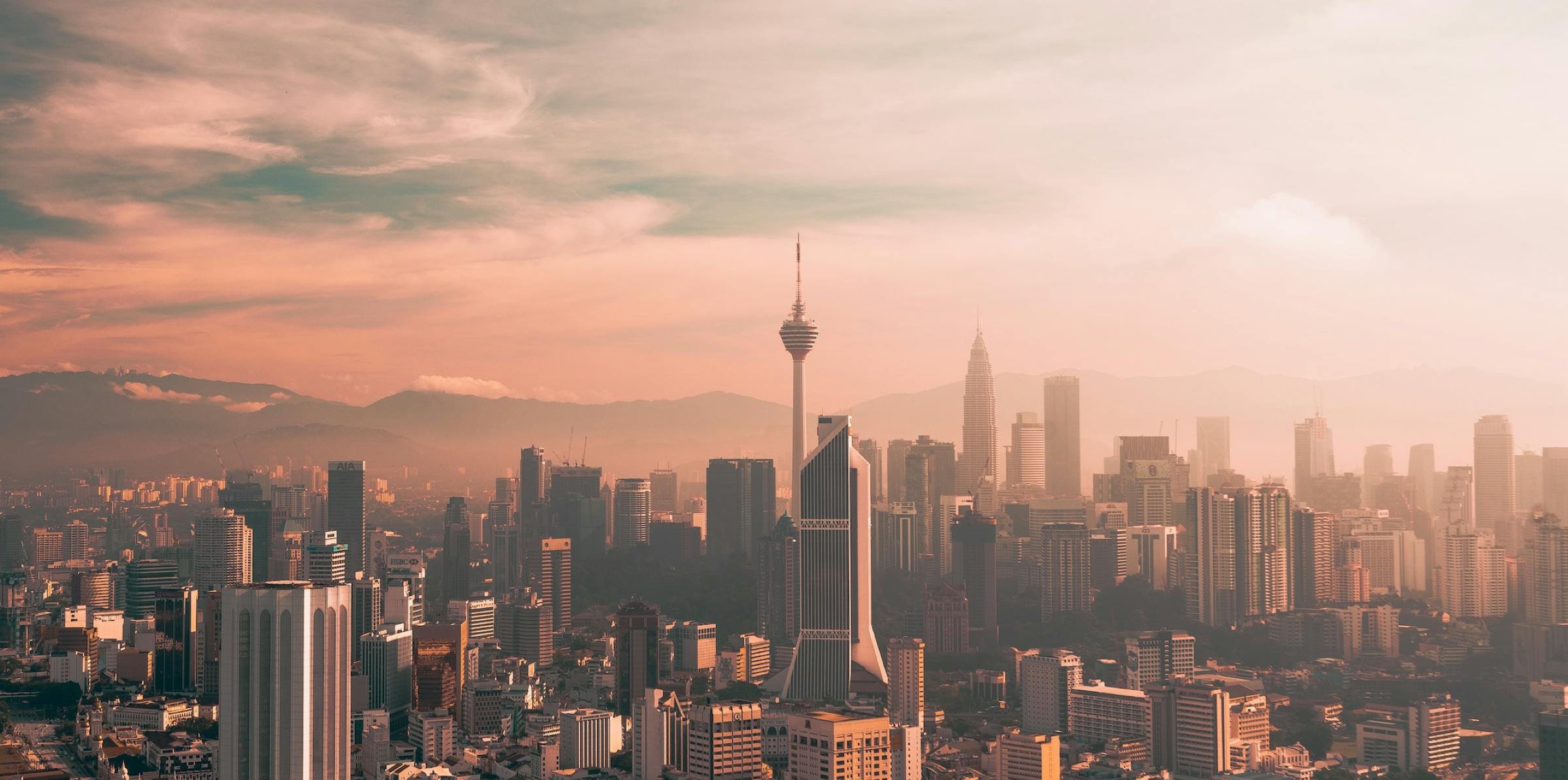 Conclusion

Investing in Southeast Asia offers numerous advantages compared to other regions. The region is home to four of the world's highest-performing emerging economies and has a population of approximately 600 million people. The digital economy in Southeast Asia is also thriving, with over 360 million internet users and an expected 10 new companies valued at over $1 billion each by 2024. Additionally, the cost of starting up in Southeast Asia is low, making it an attractive option for investors. Furthermore, the region provides ample growth potential and government support for startups, making it an increasingly natural addition to global investors' portfolios.

The potential for growth and development in Southeast Asia is significant. With its large and growing populations, booming economies, and dynamic startup ecosystem, the region offers tremendous opportunities for expansion. Investors have been increasingly drawn to Southeast Asia due to its explosive growth in the digital and tech industries. Government policies and initiatives that support startups, combined with a low cost of entry, make Southeast Asia a unique market for those seeking exciting investment prospects.

Venture studios are a recent phenomenon in Southeast Asia; however, their impact on the startup ecosystem in the region is already evident. These studios provide financial support, guidance, and valuable resources to budding startups. As a result, they play a crucial role in fostering innovative enterprises that contribute to the overall economic progress of the area. With Southeast Asia's startup ecosystem continuing to expand, venture studios are positioned to play an increasingly pivotal role in shaping its trajectory moving forward.