Mar 28, 2021
The Venture Studio Business Model Explained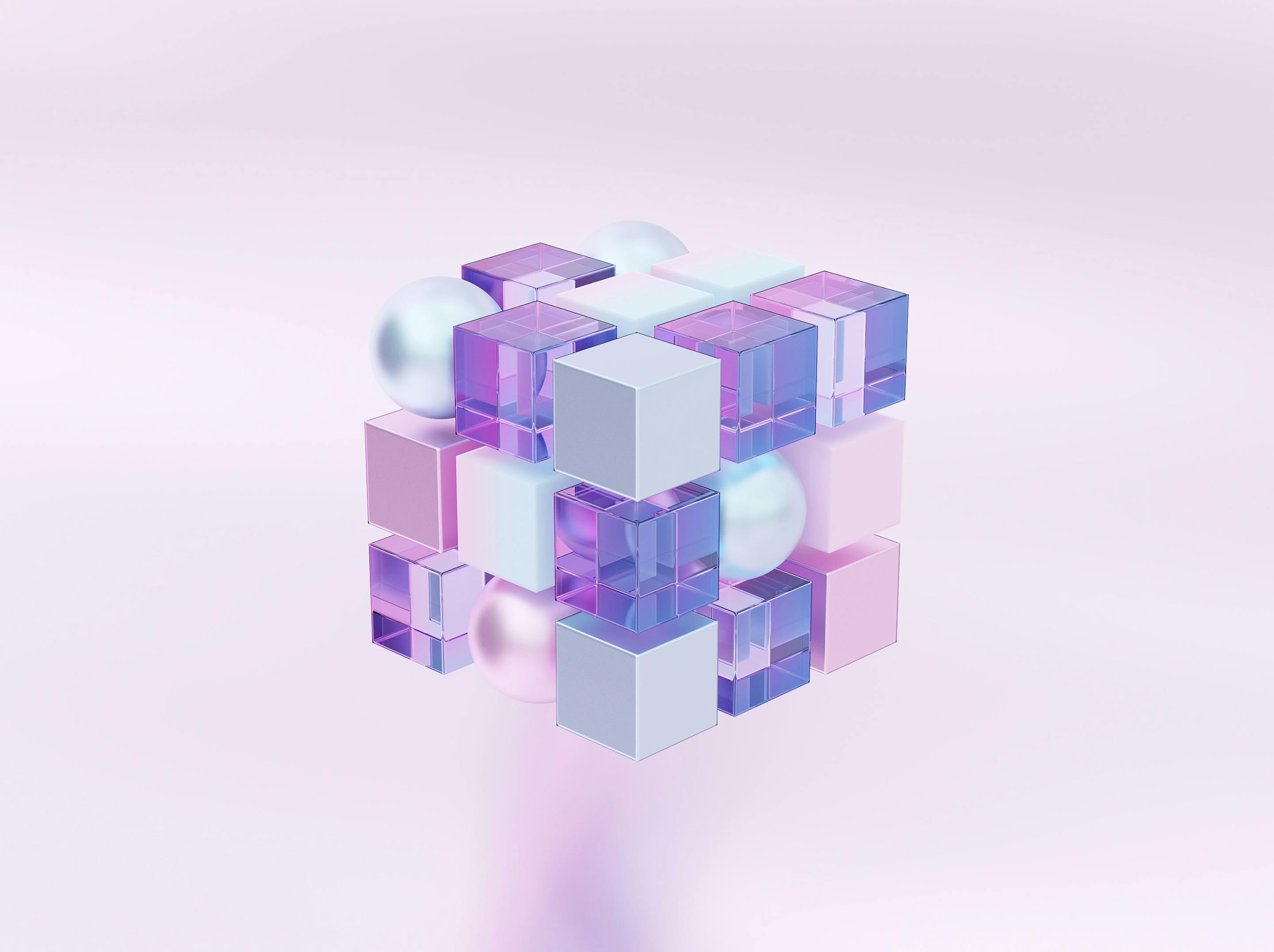 The world needs bold solutions to solve the persistent challenges impacting today's society. This means that organizations and entrepreneurs need to adopt new ways of thinking about innovation and opportunity.

While necessity may be the mother of invention, building a company, or even developing a new product for that matter, is no easy task. From assembling the right team to securing funding, there's a lot that can go wrong, especially for first-time founders. 

An estimated 90% of startups fail, which begs the question: where are they falling short and what can be done to improve their chances of success? 

While accelerators and incubators play an important role in the venture ecosystem, they're not always the right solution for every business challenge. Since the mid-1990s, a novel venture-building model has emerged with agility embedded in its framework, offering aspiring entrepreneurs more integral support.

This business model — the venture studio — is taking a hold of the startup world with a proven track record to support its success. Over the last 7 years, the venture studio market has seen an incredible 625% growth.
What is a Venture Studio?
For those unfamiliar with the venture studio framework, it's a new model for entrepreneurship, combining company building with venture funding. By design, venture studios play the role of matchmaker, linking business ideas to their talented counterparts to execute those ideas.

Venture studios help entrepreneurs grapple with the unknowns of building a new company by providing them with an initial capital amount and operational support. A venture studio's main goal is to found as many successful startups as possible — all from the ground up.
The Evolution of Venture Studios
Venture studios have been around for some time and the business model has come a long way since its inception, which can be traced all the way back to Bill Gross​, who founded Idealab in 1996.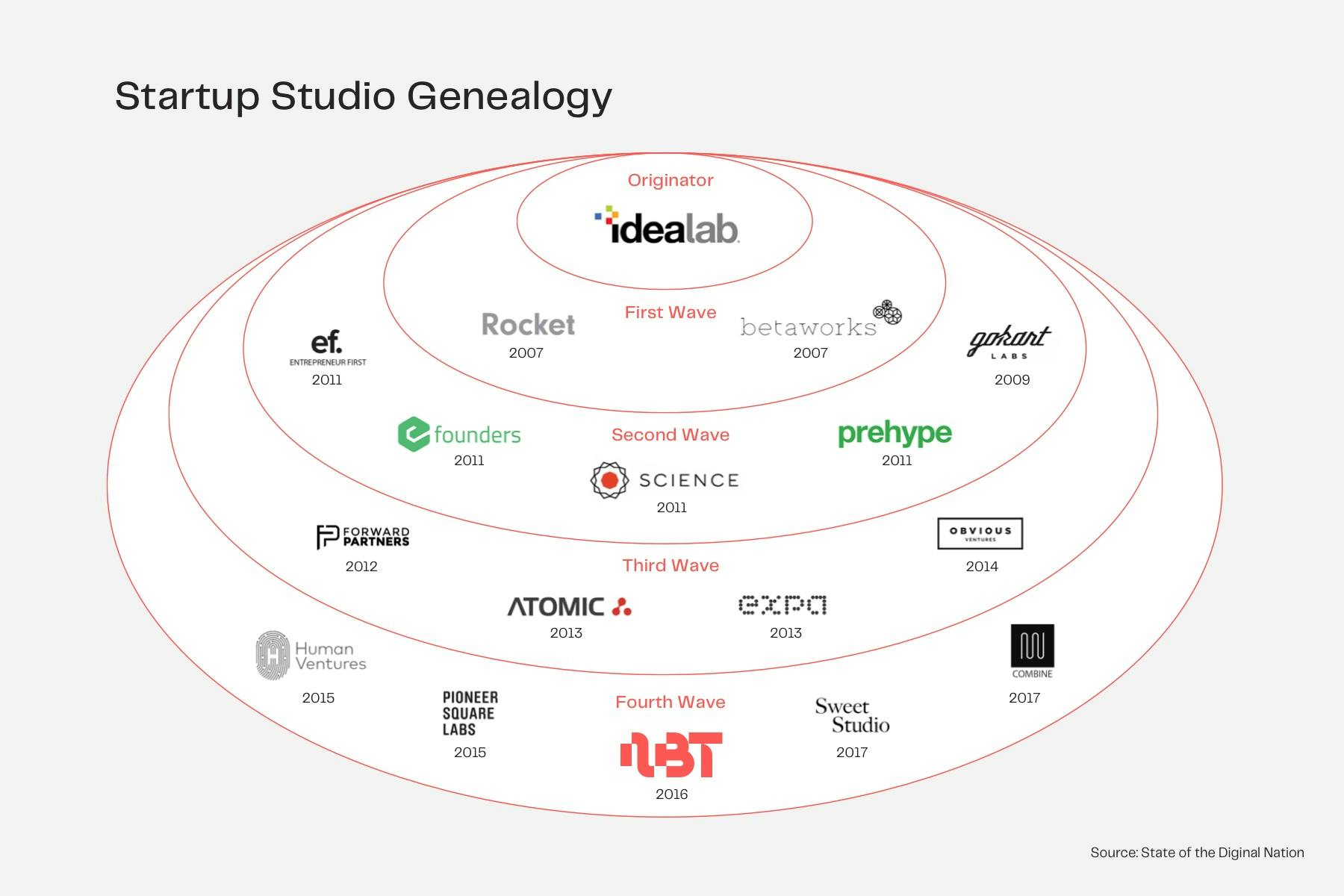 First Wave 
Idealab's initial concept was further developed with the advent of the first wave of venture studios in the early 2000s. Studios realized that it would be more beneficial to provide funding to their own startups, rather than having to attract and raise external capital.

Second Wave
From 2009 onwards, the second wave of venture studios brought on a new digital edge to the entrepreneurial support ecosystem, offering additional services with the rise of web hosting, APIs, and social media marketing.

Third Wave
In 2013, the third wave started to make a breakthrough with its lean startup methodology, prioritizing on-demand mobile services and data as valuable assets. 

Fourth Wave and Beyond
In 2015, the fourth wave of venture studios emerged focusing on a long-term vision that leverages disruptive technology to create even more resilient, sustainable, and value-generating startups.
Benchmarking Growth and Success
By streamlining the company-building process, venture studios are providing founders with a wide range of services to fast-track the development of new companies. According to Global Startup Studio Network, startups that launch from studios experience 30% higher company success rates. Almost every company launched from a venture studio raises a seed round, and 72% of those that raise a seed round go on to raise Series A financing.

When it comes to the type of companies venture studios are launching, there is a split of 61% of startups offering B2B solutions, with the other 39% offering B2C solutions.

Many venture studios aim for quick wins by positioning their portfolio companies as ideal acquisition targets so that once they secure that money, they can build even more startups. However, other studios target the long run by aiming to build the next potential unicorn that could acquire the majority of the market. 

The average studio has created 18 companies to date, with 3.8 being the average number of companies created annually by each studio. Around 47% of venture studios classify themselves as 'vertical agnostic', meaning that they do not have a niche focus on a particular industry. However, venture studios commonly focus on building technology-centric companies in the area of financial services, industrial manufacturing, logistics, and more. 

Technology-driven startups that investigate AI, IoT, and DLT use cases will continue to gain interest as digital technologies mature with 11% of entrepreneurs already actively participating in the gig economy.
Global Venture Studios Ecosystem Impact
The location of a startup is one of the most important factors contributing to its success.

There comes a point in the timeline of a startup where success or failure is determined by the amount of money injected into the company. Among the world's most dynamic markets — Asia, Europe, and the US —significant differences in capital accessibility directly impact the initial success and future longevity of new companies.

European startups are still experiencing a lack of access to large funding rounds because venture capital funds are leaner in Europe. Silicon Valley remains home to many risk-taking investors whereas European ecosystems that have strong seed funding opportunities lack high funding investors. Remarkably though, 38% of all global seed capital is invested in Europe, however, European venture capital investors are less involved in larger rounds, which highlights the shortage of growth capital in Europe.

In contrast, the venture studio model is opening up new opportunities and lowering barriers to entry for European founders. This model is proving to be an interesting choice for many aspiring European founders because venture studios focus on capital injections for both the initial launch of a new venture and its subsequent growth trajectory. Venture studios also offer greater diversity in terms of international talent which proves highly beneficial when trying to saturate Europe's fragmented market. In the coming years, much bigger tech companies will be built, requiring more funding and methods to rapidly scale.

There is a general trend toward startups leaving the Silicon Valley 'bubble' but the US still maintains its leader of the pack status. While overall investment into US and Asian startups still surpasses that of Europe, the gap is getting smaller. In 2019, $34 billion was pumped into European startups which is 40% more than the previous year. While Europe generates 36% of all formally funded startups, it creates only 14% of the world's unicorns. Adjusted for population and GDP, the number of seed-stage startups that Europe generates is only 40% of that generated by the US.

In October 2020, the European tech ecosystem ballooned to €618 billion in combined value. If this upward trend continues, it seems Europe is simultaneously closing in on the heels of Asia, while also positioning itself in becoming the most entrepreneurial continent.

Startup Studio Map by Enhance Ventures

Venture Ecosystem: A Business Model Comparison
Within the startup ecosystem, there are some important differences between the venture studio model and other types of business frameworks. While the mission of each model may be the same —  to help all startups succeed — the core differences are defined by each one's company-building process and scope of support.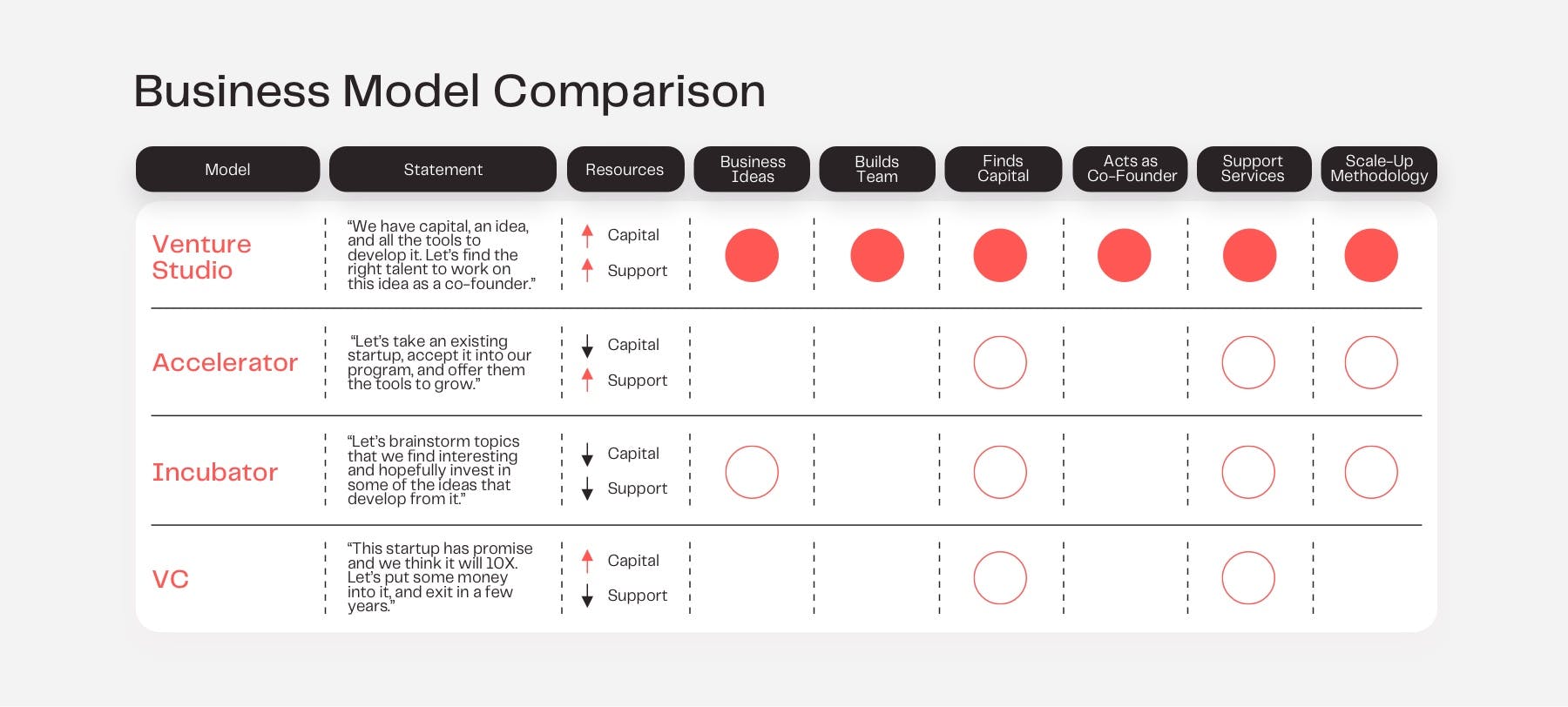 Challenges that arise from incubator and accelerator models can be better tackled via a venture studio approach. Specific solutions are tailored to specific problems as opposed to developing solutions in isolation and later attempting to apply them.

Previously the venture studio model has been described as a hybrid mix of an incubator and VC, however, due to its own merits, it has become a completely standalone model. Venture studios are considered to have more 'skin in the game' than other business models since they play an active role in founder recruiting, mentorship, fundraising, and more. These studios lower barriers to entry for new founders by offering financial support and higher levels of operational involvement.

The venture studio model can be further broken down into three subclasses: 1) In-house venture building; 2) Working for investors and; 3) Working for corporations.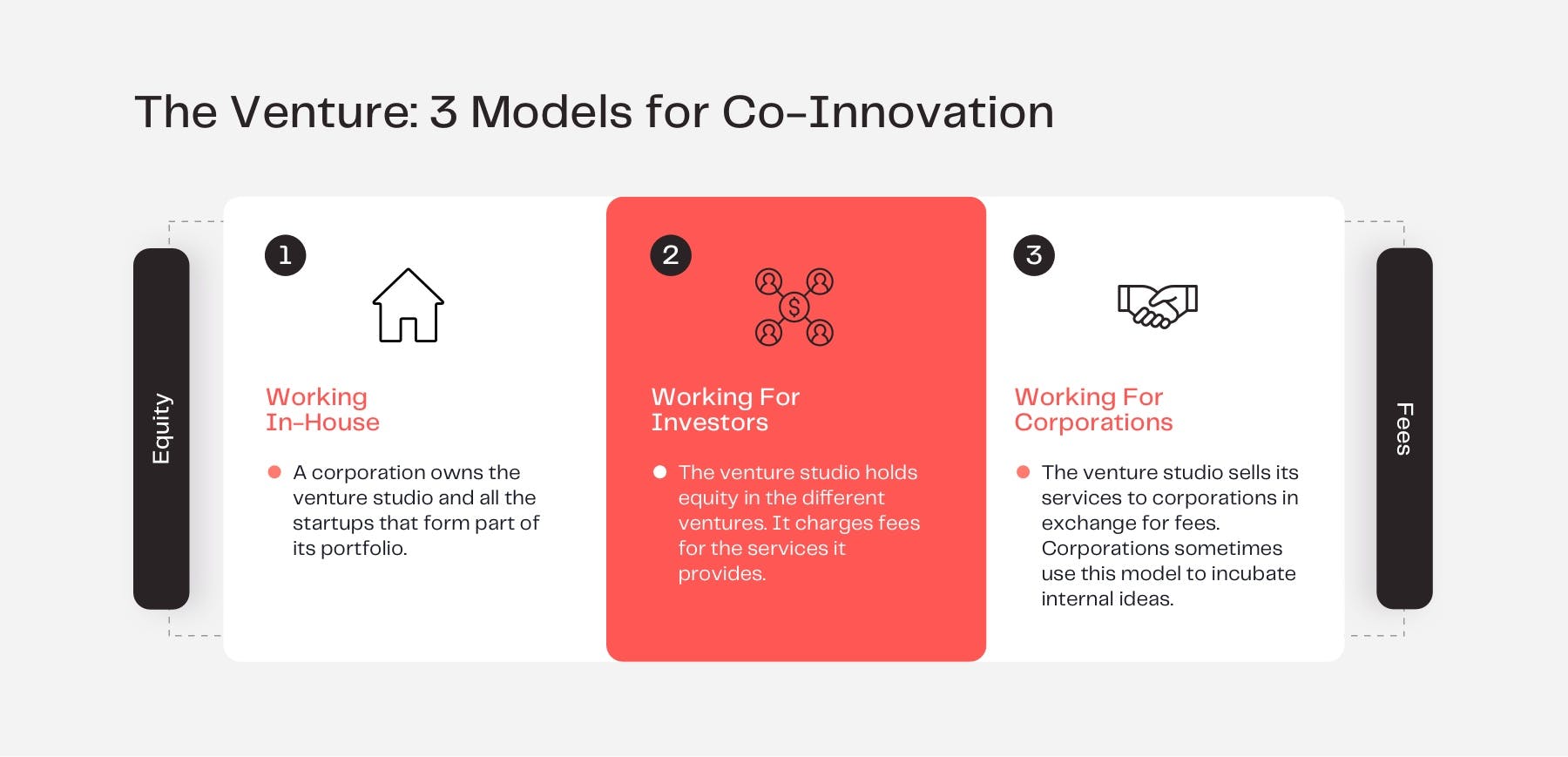 The companies that are developed within the venture studio business model have a unique composition, combining a trilogy of global talent, novel technology, and domain expertise.

When it comes to the source of the ideas flow, venture studios can be further classified by the origin of the idea.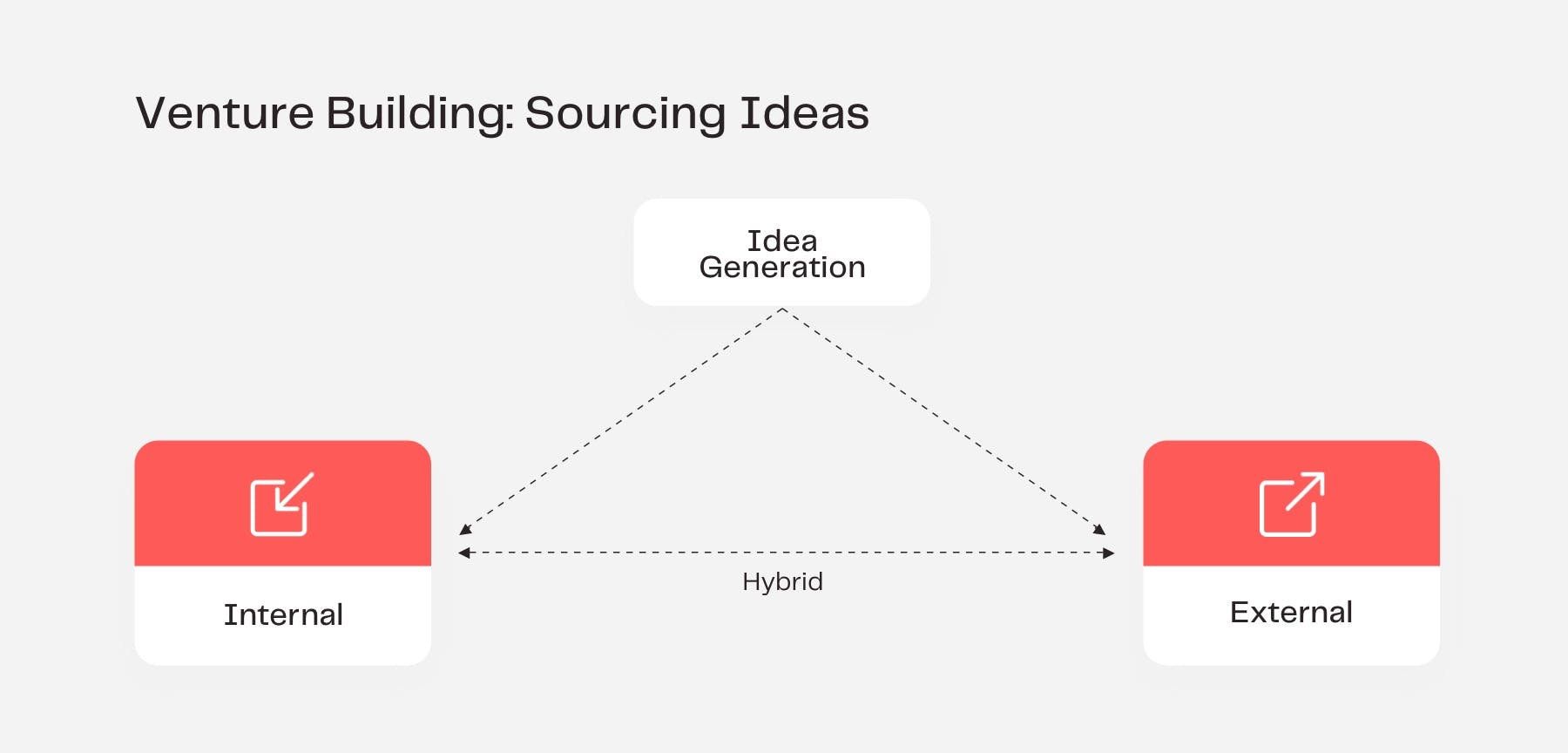 Internal Idea Sourcing 
Ideas are generated, vetted, and accelerated from inside the organization itself. Internally, these ideas are validated and capital has raised all in-house. Once the new idea has proven its product-market fit, the studio then spins it off into a separate portfolio company. The venture studio will then look for additional co-founders, and other team members to scale and grow its newly validated business case.

External Idea Sourcing
While most venture studios generate all their ideas internally, some studios will acquire and invest in external ideas or companies, as a part of their portfolio. Venture studios will host open calls to scout for new ideas and partner up with driven entrepreneurs looking to build on their own ideas but lack the resources to do so.

Hybrid Idea Sourcing
In some cases, venture studios take on a hybrid approach. This means that the venture studio will source new ideas from both internal and external networks, combining the best ideas of both worlds.

Venture studios provide new founders with an impressive amount of capital. The average studio injects an initial amount of $232,458 into each startup that they develop. In return for this support, venture studios generally take a 34% equity stake in the startups they co-found, with the highest equity percentages at around 80%, and the lowest equity percentages hovering at around 15%. However, this number can change depending on the type of support the studio provides and the experience level of the incoming co-founder, or CEO.

Venture studios continue to prove their success, with 84% of studio startups going on to raise a seed round. On average, studio startups go from day zero to seed round in 10.7 months, and seed round to series A in 14.5 months. Of those startups that make it to the seed round, 72% of those ventures make it to Series A. Compare this figure with traditional startups where only 42% of ventures that get to seed make it to Series A. 

Between 2010 and 2018, over 12700 startups worldwide were acquired by US companies. In 2018 alone, over 4200 startup exits occurred with the value of startup exit deals amounting to $219 billion worldwide. The industry average for a traditional investment to exit is about 6.6 years, while startups created in studios showed that the average age of a company at exit was 3.85 years.
Startup as a Service: The Venture Building Process
The life of a founder is a constant tug-of-war between success and failure, with around 40% of entrepreneurs stating that they started their businesses to make a difference in the world. 

Venture studios focus on developing companies and products that aim to solve industry-specific challenges in a way that is value-generating and accessible. Through a series of sprint cycles, rapid iterations, product-market fit, and manufacturing viability, venture studios do a thorough validation of each business idea to assess its impact and potential, before scaling it up to success.

While each venture studio's process might differ, each follows a similar path of development: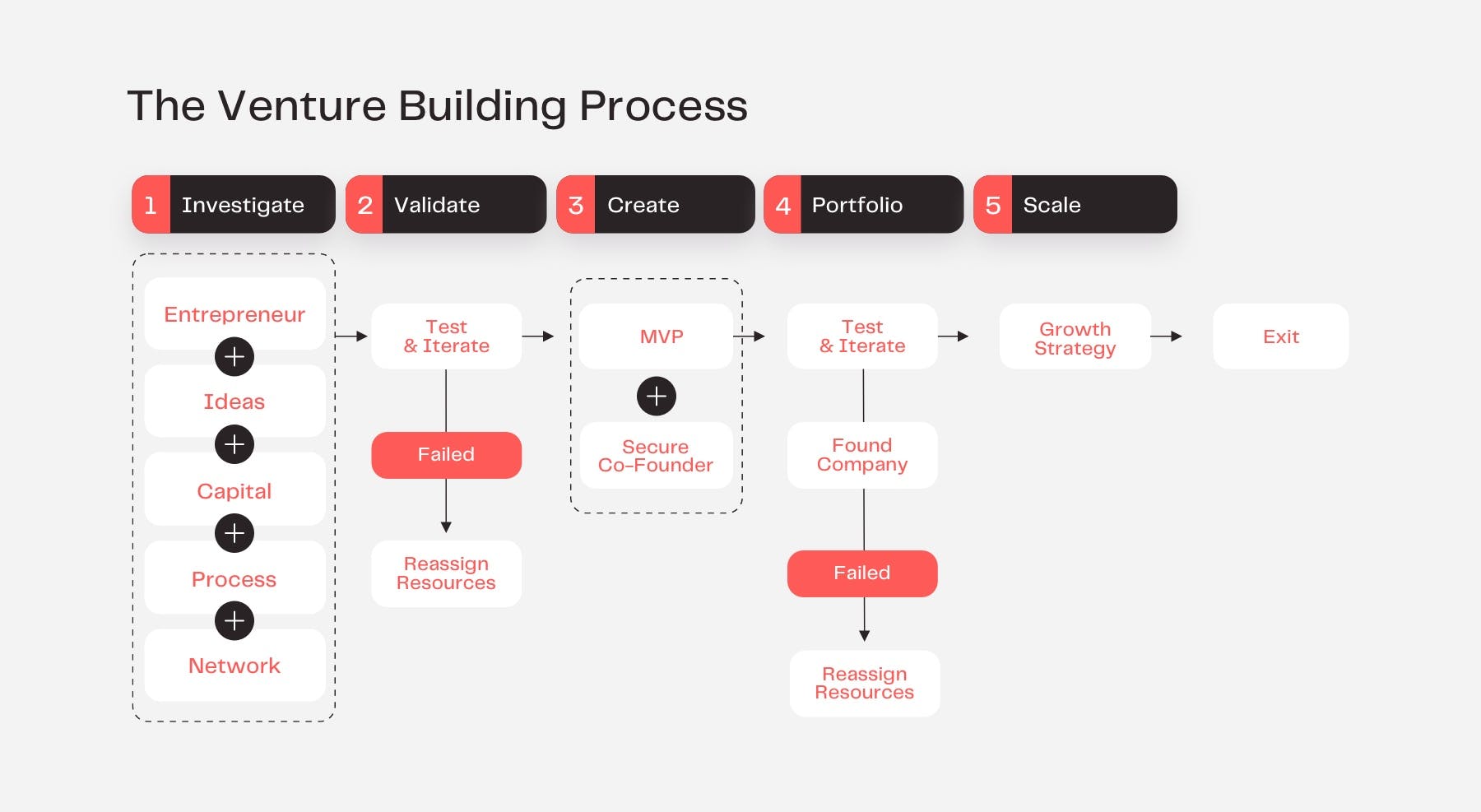 Venture studios build startups parallelly by generating fresh ideas and assigning teams to the ideas that have market potential. Once these ideas have been tested and validated, they are then supported with resources (capital, services, etc.) in order to build an MVP. If feasibility is proven to be successful after this point, the studio focuses on scaling the new venture and then aims to exit. This business model loop is repeated over and over again, each time bringing on a new venture. In the case of an idea failing, it is assumed that resources will be reassigned or the business case will be dropped entirely.

Stage 1: Investigate
This process involves sourcing ideas, investigating whether it has merit, and evolving it step-by-step into a concrete business case. This stage is focused on defining the value proposition of the business case. By the end of this stage, the entrepreneur should have a clear outline of how to convince potential customers why the service/product is more valuable than what is already available on the market.

Objectives
Clear value proposition
Competitor analysis
Define idea hypotheses and assumptions
Stage 2: Validate
After the value proposition and early adopter segments have been defined, it's time to put ideas to the test. This stage is focused on mapping out early product specs (PoC) which will need to be tested and validated with supporting evidence to indicate the viability of the business idea.

Objectives
Customer discovery
User stories
Detail PoC features and cost estimates
Stage 3: Create
The first product (MVP) is created to satisfy all the necessary properties researched and outlined in previous stages, serving as the "real-life proof" of the more abstract stages leading up to it. MVPs serve as a test for partners and customers to understand its actual usage and to strengthen the market fit.

Objectives
Develop MVP and iterate based on learnings
Plan out the product roadmap
Update the business plan
Stage 4: Portfolio
On the successful completion of all previous stages, the business case is founded. The company is added to the existing portfolio and venture developers are assigned to the business case to develop the growth strategy of the new venture.

Objectives
Venture is founded
Added to portfolio
Stage 5: Scale
During this stage, the venture is focused on scale-up efforts, exploring new market opportunities, building management systems and middle management layers, and developing new products. This is the final stage before a successful exit, which is usually an acquisition, or sometimes an IPO.
R&D Capacity in Venture Studios
R&D processes can go beyond technology, focusing on key partnerships, cost structures, additional revenue streams, resource allocation, additional product lines, and market segments. The venture studio model incorporates basic elements of R&D at its early stages such as exploring technical and business opportunities, as well as evaluating venture feasibility.

In most cases, traditional R&D processes take a long time which is in contrast with a venture studio's core ethos of rapid development and growth. Traditional R&D processes are also not easily replicable, scalable, and resource-intensive. In some cases, venture studios may avoid taking projects that require intense R&D input.

Then there is open innovation which uses both inflows and outflows of knowledge. Corporate partners with venture studios that have built a new, agile R&D model to rapidly validate ideas that these larger organizations would have otherwise spent immense amounts of time and capital researching. The core belief of this ideology is based on accessing distributed knowledge, which is becoming an increasingly popular choice as many market players are beginning to realize that they can't rely solely on their internal R&D capabilities. This type of partnership — between venture studios and corporations — can reduce the cost of R&D and improves the company's innovation potential.
The Future Venture Studio Model
Venture studios already have pioneer status in the entrepreneur world. Therefore, there is little doubt that this business framework will continue to evolve in the future. While it's impossible to predict what changes may take place, we can make calculated assumptions based on what is already known today. In the future, the venture studio model will work like a well-oiled machine with smoother development processes and fewer failures or 'dropped' projects. With a streamlined company-building process, fewer resources will be required at each stage of project development, meaning that resources that were once tied up can now be focused on bringing on more ideas into the pipeline. However, greater focus will need to be placed on product/market fit and defining venture value propositions as competition rises for both venture studios and their portfolio companies.
Benefits of Venture Studios
The core value proposition of venture studios is that they reduce the time it takes to build out startups, significantly reducing the risk profile of entrepreneurs, while simultaneously attracting more talent to ideate and innovate new business cases.

Unlike startup accelerators and incubators, who mainly provide funding and mentorship, venture studios act as both a builder and a co-founder. Venture studios are renowned for having a wealth of human capital, consisting of venture developers, in-residence entrepreneurs, C-level personnel, and in-house support staff.

Generally, venture studios offer a variety of diverse in-house support and outsourced resources that include: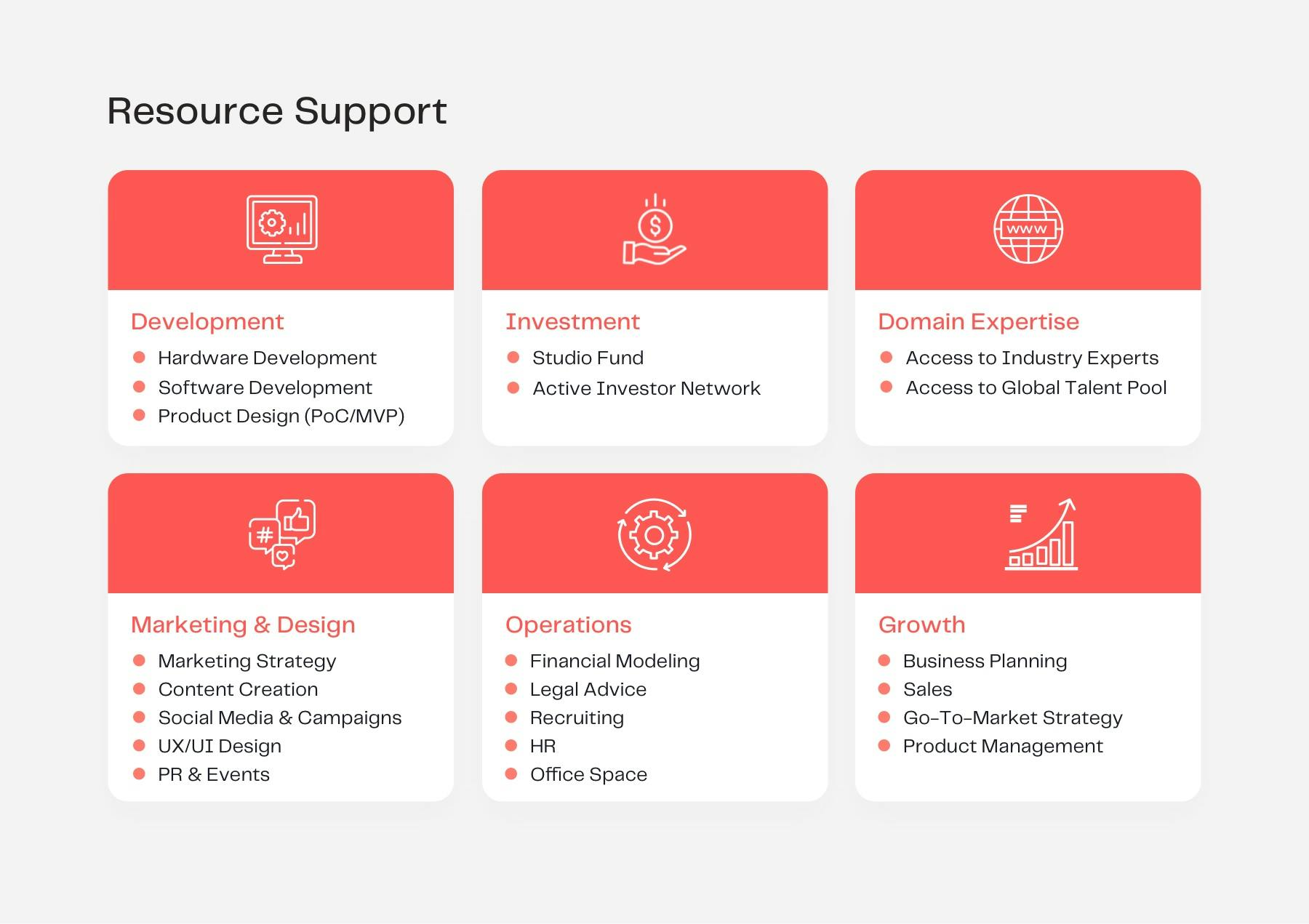 While founders focus on building a product, the studio supports them in other ways. Day-to-day operations are taken care of by the studio's experienced operators: marketers, designers, finance experts, recruiters, and more.

Startups co-founded by venture studios scale faster and provide better returns to investors. On average, these startups have a 53% internal rate of return (IRR). Compare that to the average for non-studio startups, which sits at 21%.
Corporate Partnerships with Venture Studios
As a company-building machine, venture studios effectively combine the disruptiveness of a startup with the necessary stability of an experienced team. This makes studios an attractive choice for corporations who are looking to develop strategic partnerships with innovation pioneers.

As a new model for entrepreneurship, venture studios are agile, have greater access to founder talent, and help corporates explore research and development (R&D) areas at a fraction of the time and cost.

Venture studios are better–placed to harness technology to recalibrate a corporate's existing business model or invent new ones altogether. Around 95% of large organizations with a structural innovation program invest in tech incubators, 90% of such organizations work with small niche vendors or startups directly, and 84% use the acquisition of startups or small vendors to advance innovation.

Venture studios act as a kind of outsourced innovation laboratory with a diverse market perspective. Especially in economically uncertain times, the priorities of organizations generally shift closer to short-term business success in part to ensure survival. Partnering with a venture studio enables organizations to spot opportunities that they otherwise would have missed. This allows an ecosystem to flourish where partners and startups co-develop solutions and benefit from a win-win situation.

Organizations that see venture studio partnerships as more than a public relations opportunity will develop unique experiences and efficiencies that give them a competitive edge. Corporations that use co-innovation to improve business operations as part of the organizational culture will significantly benefit.
Future Founders: Beyond the 90%
The number one reason why businesses fail is due to the fact that there's no market need. Venture studios challenge the premise that failure is the default by substantially increasing the odds of startup success.

With more venture studios emerging, ecosystem competition is rising in terms of how these organizations source ideas, attract talent, differentiate themselves, and expand their global network. Currently, there are 582 million entrepreneurs in the world which make the venture ecosystem ripe for venture studios searching for fundable founders.

As the venture studio model matures, even more innovative ways of building, growing, and investing in compelling new startups will emerge. By offering aspiring founders the full scope of development toolkits, mentorship, funding, and the innovation quality stamp, venture studios are on an upward trajectory in empowering a more prosperous, sustainable, and democratized world.